Best FIFA 22 Cheap Starter Squad - Building Your First FUT 22 Starter Team 10K
9/10/2021 9:35:36 AM

FIFA 22 is right around the corner, it's releasing on EA Play in just 2 weeks. And now is the best time to prepare a reasonably, affordable, but solid overpowered team that can help you get a winning start and racking up coins in FIFA 22 Ultimate Team. Here we share a cheap FIFA 22 starter squad composed of best players which only costs 10K FUT Coins.
Building Your First FUT 22 Starter Team Cheap
People have already started to make detailed plans for what to do from the moment is releases to the release of the ultimate edition on September 27th and the release of the standard edition on October 1st, this includes building a starter team for FIFA 22. So how to choose best squad and which are best starter players FIFA 22? This 10K cheap squad is just what you are looking for.
FIFA 22 most overpowered best squad 10K
Squad details
Formation/lineup: 4-3-3
Clubs: Everton, Liverpool, Bayer 04 Leverkusen, West Ham, Fulham, Spurs
Leagues: Premier League, Bundesliga
Rating: 84
Chemistry: 81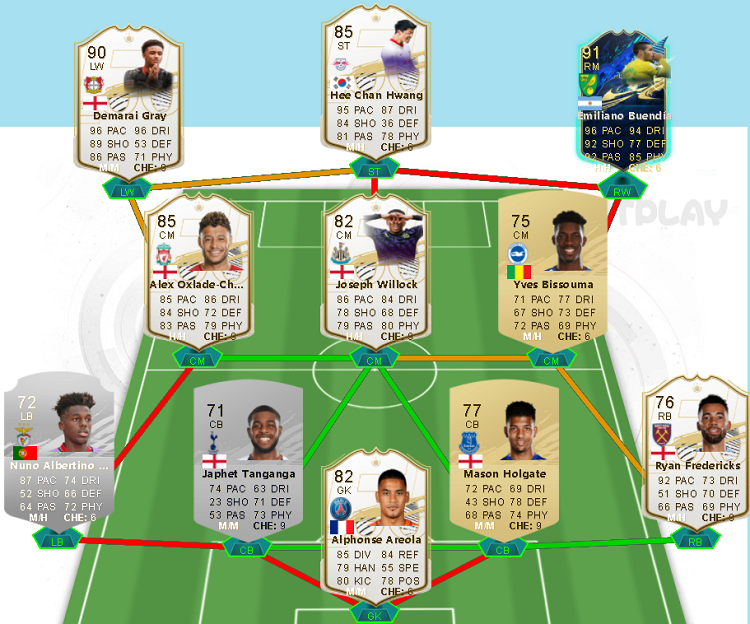 Player instructions - why should I pick them?
Areola: He plays for Fulham, he went back to PSG but he has been loaned out again to West Ham, he's a very solid goalkeeper this year, he's probably one of the only rare gold cards that we've got in this current squad. If you get a hold of him, you can hold on to him for at least a good few months before needing to replace him.
Fredericks: He's another rare gold but he's very cheap, he's pretty much being the base because other than his pace, his stats aren't amazing but at right back, 92 pace is all you need.
Holgate: It's a non-rare gold card with 3 star skill moves and 3-star weak foot, medium/medium work rate. He's also 6 foot, so it's no the shortest. His defensive stats are good and he has got a bit of pace. He should get a minor upgrade to 78 or 79 next year. These defensive stats are good in a starter center.
Tanganga: Another very solid center back from Spurs non-rare player this time. But he's also going to get a decent upgrade.
Nuno Tavares: He has just signed for Arsenal at left back and mean this probably will get upgraded. He might still be a 74 rated rare silver but he may squeeze into the gold category next year because he will be playing in the EPL. He's got decent defense, decent physical and bundles of pace for a full back, but he's going to be very cheap. He's also very strong, 3-star skill moves and 4-star weak foot.
Bissouma: He's a very cheap midfielder, played very well this season, just all-round very solid stats. He's got 4-star skill moves, 3-star weak foot which are very useful for players at the start of the game where their defenders are not going to be as good and not going to be able to cope with the turn of pace and skill moves of some of the faster forwards that you might have.
Willock: He has confirmed move to Newcastle. He's got great stats like 86 pace, 84 dribbling and 80 physical. Just a very well-rounded card and definitely going to be useful for a starter squad.
Alex Oxlade-Chamberlain: He's got a 79 rated base card in this current FIFA, he's probably one of the more expensive ones because he plays for Liverpool and he's an EPL player which bumps the price up somewhat, but just very well-rounded stats and that's what you are looking for in center midfielders.
Buendia: This is a very usable card with 96 pace, 92 shooting, 92 passing, 94 dribbling and 85 physical. He's not very high rated, was a whopping 30K at the start of last season due to his popularity and his pace. He should be very solid at the start of next year, we'll get strong links to players like Ollie, Watkins who is also going to be a very good start striker.
Hwang Hee Chan: He's got 5-star weak foot as well as 3-star skill moves. He will be very fast and as forward with 95 pace, that's all you really need to do to get him. He's going to be pretty cheap as a normal rare gold card and should be quite affordable when the game comes out.
Gray: This is a very solid card with 4-star skill moves, 4-star weak foot and medium/medium work rates. He's also very quick with 96 pace and he plays ball very well with 96 dribbling.