NBA 2K22 MyTeam Mode New Features Looks Insane!-New TTO +Draft mode + Graded Cards
9/3/2021 4:41:28 PM

NBA 2K22 MyTeam full preview card collectors, online competitors, casual NBA fans everyone has a place in NBA 2K22 MyTeam. A few short days away from getting this amazing mode into your hands. It's time to get you filled on everything going into NBA2K22 whether you're a seasoned vet in NBA 2K22 MyTeam or someone looking to build their first dream team, there is something for every player in NBA 2K22 MyTeam.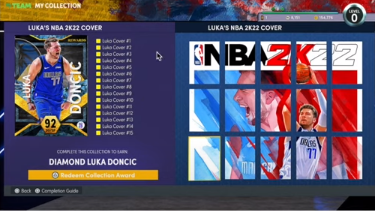 Many foundational changes to NBA 2K22 MyTeam
1. Draft mode
To experience car collectors, online competitors, casual fans everyone has a place, it looks like this is your starter, this is the draft mode, so this is the very first to look at the new draft mode and it's called draft colossal pack updated.
NBA 2K22 MyTeam draft in case you missed the first announcements, the draft is a new multiplayer mode we know about that which will include the latest cards when starting a draft you'll be presented with seven packs to choose your 13 players, and the coach will coaches make that big of a difference this year.
You'll pick up two players from each of the position packs but where the draft will shine. That is the featured pack aka the colossal pack that might be the first theme that actually gets to start the year, so that might be a tease at the first premium set that we get this year what is the featured pack it's where the latest releases in my team.
So for them to show the colossal pack might mean that getting Shaq in packs on day one that's actually crazy but this is where the latest releases in NBA 2K22 MyTeam will show up for you to compete.
Unlike the other packs, this feature pack will only contain three cards, which are added to your drafted lineup you can likely count on these players being the best players in your lineup look for the featured pack to be updated with the latest players NBA 2K22.
The latest players right there, if that is actually consistent, this draft mode is going to be fire latest cards released in NBA 2K22 MyTeam each Friday, the positional packs will also be updated, but don't count on the previously featured pack players showing up in there immediately after cycling through.
So it looks like just because the set ended doesn't mean they're automatically put into the draft packs you might have to wait a week or two before it's actually happened, but what are you competing for in the NBA 2K22 MyTeam draft, every draft will net you a guaranteed league pack and at least a single pick on a draft exclusive ascension.
So there's going to be an ascension board on the draft mode, what that means for ascension boards in general full of prizes to add to your permanent collection for every win, you get in your drafted lineups limited run wait.
2. Pink diamond
Are they mixing limited and the draft mode? You will earn additional ascension picks with the high stakes of a draft run you can expect some great rewards in this ascension including an exclusive grand prize player each season, they were about to announce someone, and for season one call to ball that player is the pink diamond, Glenn Robinson.
It's actually gonna be a decent card to start the year. any NBA 2K22 MyTeam player will want to dominate with start the year, once you complete a run by either achieving 10 wins or taking three losses, you will use all your earned ascension picks and then be able to draft a brand new lineup.
3. Triple threat
If it stays this year by the year after it could really keep progressing triple threat online the 100, that already sounds like at least 100 games one of my team's most popular modes in my personal favor triple threat online will be receiving a new way to play this multiplayer three on three-mode enter the 100.
Triple threat online the 100 you will receive 100 points after every game win or lose, the number of points your opponent scores against, you will be subtracted from your a hundred what is this once you hit zero, run over you are reset back to the bottom tier of prizes, this means at minimum every player should now get into the second tier of prizes for this modes ball drops, even if they lose every game NBA 2K22.
4. TTO defense
So people that play defense in TTO are more likely to get better prizes very interesting every possession matters now. it's time to step up your game step up your defense, be sure to check out the defensive sections of Mike Wang's gameplay courtside report, you will need to shut down your opponents to reach these top-tier reward boards.
The defense is gonna matter more in NBA 2K22 MyTeam, it really sounds like they're focusing on people being more defensive players this year, because last year if you knew how to shoot the ball, you could win a game, the defense was almost non-existent, so to focus on it, a bit more at least from what it sounds like is nice season exclusive reward players are returning, like last year, these ball drop prizes will see will again see regular updates, all year long in my team.
That pickup and skill challenges changing up the single-player game challenges have quickly become the go-to place for single-player, NBA 2K22 MyTeam games whether it is our five-on-five full game lineups or triple threat challenges intro introduced last year these games provide the most unique lineups to compete against and provide some great prizes to improve your lineup and collection for NBA 2K22 22.
To preplace weekly and moment challenges with pickup and skill challenges, let's start with the pickups every day, you can earn and compete generated lineup. If you enter with a full 90 plus overall team you can expect to meet some tough competition on the flip side enter this game with a perspective limited lineup and your CPU will match so this is nice for people that don't have god squads and for people that do have god squads you get you to know matched up against opponents.
Letting you have a quick retry while still in the game, in addition, you can complete skill challenges out of order, allowing you to pick and choose from a challenge to complete in the group at your own pace from reliving history to creating your own skill challenges are going to be a brand new way to experience single-player my team.
5. Spotlight challenges
Final spotlight challenges tip off your NBA 2K22 MyTeam challenge experience for the year, there are 20 spotlight challenges featuring, four NBA cover athletes for NBA 2K22 including both five on five and triple threat, these games will both test and improve your lineup, as you complete each challenge the final reward, one of the 15 event cards needed for diamond Luca Doncic
It is what it is brand new event cards, throughout NBA 2K22 MyTeam will hold numerous events, at the start of seasons during limited, during limited-time events and for great moments in the league for these.
6. Graded cards
One more new card type in NBA 2K22's NBA 2K22 MyTeam event cards earnable and pullable look to collect sell and exchange these cards throughout the mode in different ways. By creating a 15 card mural for you to assemble to commemorate Lucas NBA2K22 cover complete lifetime agendas.
Diamond Luca card
You actually got to play different aspects of the game which honestly for a freaking diamond Luca who by the way does not play point guard off the bat is actually going to be a solid card. Now he did get a new jumper this year, so he's not going to have that Exxon base but still his new jumper.
Actually looked pretty solid in the trailer again, diamond Luca Doncic available on day one, that's fire two 250k tournaments before we get too far into the player cards and rewards.
Vince Carter cards
Vince carter right here, that's pretty fire, and the collection will seamlessly cross between. This was happening last year, you could qualify and compete across both console generations, it's wide open for any of NBA 2K22 MyTeam players to make a name.
Hollow player cards
Hollow player cards, so there's gonna be a bunch of different cards this year, what are the rarest cards in NBA 2K22 MyTeam, this may not be just a galaxy opal curry or dark matter Lebron but hollow versions of these players.
Hollow versions of these players, every auctionable player in NBA 2K22 MyTeam will have the opportunity to become a hollow version within it when it is opened from the pack market, these rare versions all their ultimate flex in your collection and to show off the community when playing online while hollow player cards have the same attributes and badges.
As your common versions, there will be certain agendas and lineup rules that can require the use of these rare and special cards, so be on the lookout for hollow versions of your favorite players when sniping in the auction house.
What you can get PSA 10 cards the highest grade you can receive is a flawless 10, but every card graded returns to your lineup with a bonus NBA 2K22 MT in every game played.
So when you're playing daily pickup challenge. Are you maximizing your NBA 2K22 MyTeam points earned with graded cards? there are graded cards in NBA 2K22 MyTeam similar to hollow player cards, only auctionable player cards able to be graded, you can grade cars.