NBA 2K21 Top 5 Best Shooting Badges- Boost Your Jumpshot ASAP
8/7/2021 2:24:09 PM

Shooting is an important part of NBA 2K21. Shooting having such a learning curve, badges have become a must so with that. This guide introduces the top five shooting badges that you must-have for your player in NBA 2k21.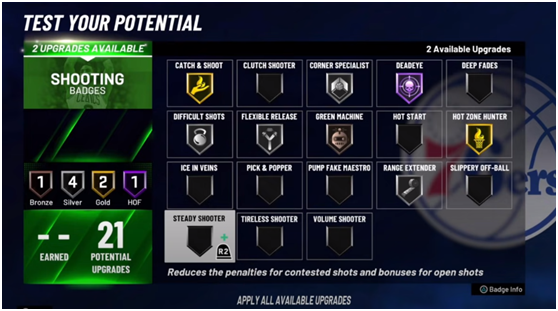 5 Best Shooting Badges in NBA 2K21
1. Deadeye
The dead eye badge decreases the penalty on shots contested by a defender at the last second now. The whole purpose of this badge is to help you out and boost your chances of hitting, more slightly contested shots when the defender sneaks in there at the last moment. This batch should be necessary for all play shots and sharpshooters a defender is always going to sneak in there at the last second, this batch whole purpose is to basically erase that from your shooter's sit, so you're less likely to receive a penalty from them getting an arm in there.
2. Range extender
The range extender is absolutely necessary for you to fulfill your true destiny as a sniper in NBA 2k21, there's no other badge that can give you the Steph Curry Dame Lilly range like this one. Any offense you play on you and them will be better for it with you having this badge as high as possible as, it opens up a lot of other things when your opponent has to worry about you launching from the locker room the badge gives a boost to all types of shooters from normal deep range and inside the arc, but obviously really shining for the better shooters the further out you go, forcing opponents to really respect your button press and stick aiming skills.
3. Catch and shoot
The catch and shoot badge, you should equip as well if the majority of your shots are going to be of the catches your variety as you're not going to hit us consistently without it. if you ever guard somebody and it seems like they're hitting everything, when you give them a sliver of daylight, odds are they have catch and shoot on as high as possible, it's not higher on the list because guys who handle the ball majority of the time, won't find use especially on the higher tiers unless they have badge points to spare but you can live with this on a lower setting.
4. Flexible release
Flexible release with the difficulties of shooting this year. The release is kind of good this year and with the changes to the shot meters and the nerf to lower-rated shooters being able to green as consistently as. high rated flex release works magic, it activates on any non-excellent release shot, flexible release aims to help those who consistently live on slightly early in lake boulevard. This helps you out especially if you aim with the stick and coming in at number one on sports gamers online.
5. Hot zone hunter
A lock for must-have badges. If you're able to get hot zones on your court, even if you mistime jumper, so having a hot zone hunter go with it just makes sense. so with the increased importance of hot zones. it's important for you to develop them as quickly as possible, to receive the ridiculous boost from shooting in them and slapping on hot zone hunter to further boost you up, if you develop a cold spot somewhere, as you won't receive much of a penalty shooting in them opposed to a neutral spot and the higher your rating is the more you will benefit from shooting in your hot zones, your make percentage jumped from 15 to 20 percent.
You have to get your own hot zones in each mode and once you do be amazed at the jump and shooting, your player will receive with moving shots being so effective right now, the difficult shots badge stock price has soared.
So far in NBA 2k21, these five badges are most comfortable, if you're more catch and shoot put that badge up as soon as you can, and if you do not get those hot zones up to code. Hoping this guide to help you out new to NBA2k21, and for those who are still searching for the right shooting badge combo, hopefully, put you in the right direction. In addition, the cheap NBA 2K21 MT will be offered on UTPLAY.COM to help you as well!