FIFA 21 4-2-2-2 Best Custom Tactics & Instructions - Meta 4-2-2-2 Squad Builder In FUT 21
7/21/2021 9:33:43 AM
From 2020 to 2021, there were lots of good FIFA 21 formations that at different times of the FIFA 21 year that are very good, and we've done a lot of custom tactic instruction on our website throughout the year, regarding lots of different formations at the moment, like the 4-4-1-1 formation. but the best and undisputed number one best tactic that can work for all of you this year is the 4222 formation tactics. we will walk you through one of the most Meta formations 4222 Squad Builder, along with the best Custom Tactics for 4222 and Player Instructions In FIFA 21 Ultimate Team!
FIFA 21 4-2-2-2 Formation Squad Builder - Best FIFA 21 Formation Of All Year
To be able to pick out a formation that you like and try to stick with it, even if you experiment with different formations, but always have your favorite formation set up in one of your game plan slots, you can always go back to it is quite hard, but we are confident that 4-2-2-2 might be the one for you.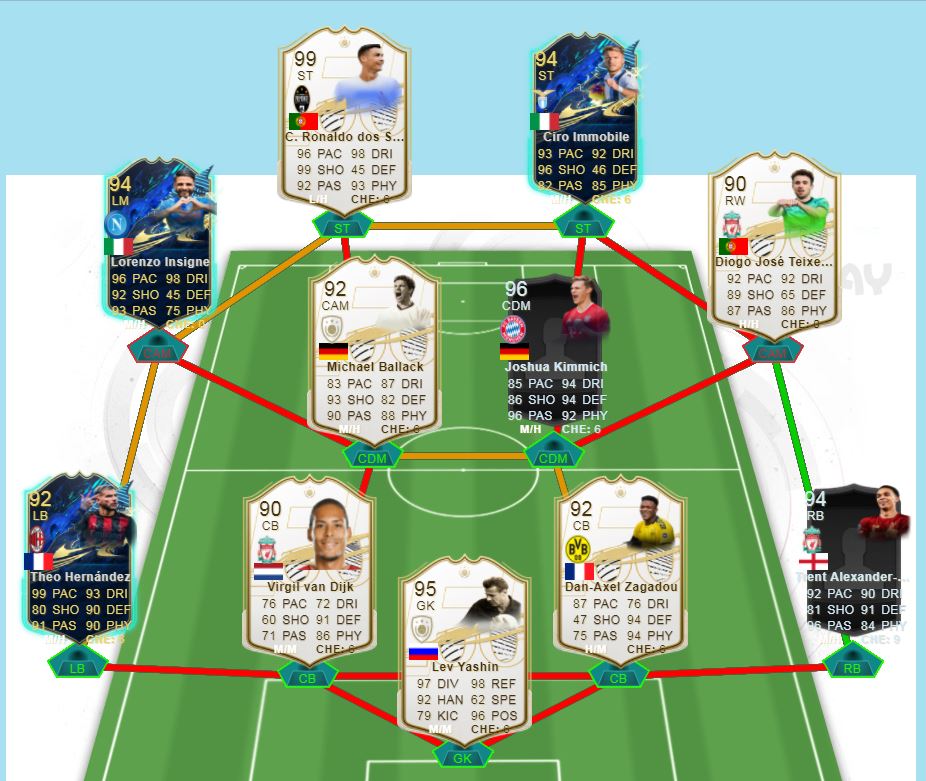 FIFA 21 4-2-2-2 Best Custom Tactics
Defensive Tactic
Defensive Style: Balanced
Width: 5 Bar
Depth: 7 Bar
Offensive Tactic
Offensive Style: Fast Build Up
Width: 7 Bar
Player In Box: 6 Bar
Corners: 1 Bar
Free Kicks: 1 Bar
Defensive Analysis:
If defending isn't your strong suit and feel like you can't afford to play on a press, choose a balanced defensive style is a great choice, and it also helps your team to keep in good shape. there's no benefit to ever moving the defensive width above standard four to six. because you don't need to go super wide or narrow. keep it between four and six is always the way you should go. the depth is something that changed throughout your experience in FIFA 21. at the start, you could go for four or five, and then as you progress, you can go on a higher depth when you getting more confident with the game. at this point, at the end of FIFA 21, it's only the super hardcore players that are left playing, they all have insane teams. if you give them too much space, it will be too easy for your opponent. seven is a good adjustment, you can be able to still press quite well and get up the pitch quite fast, and be relatively solid defensively and not leak too many goals.
Offensive Analysis:
Fast build-up was something that came in the second the latter part of the FIFA 21, in the beginning of the game, the long ball was super effective, it worked extremely well. but the fast build-up is a different story. fast build-up only works well for certain formations, the formations need to be a bit more compact, it works better in and in this formation, the fast build-up is a better option. the offensive width for this formation rounds about seven to match the depth was very effective. it's not going too wide, the cams are on Free Roam as you'll see in the instructions later. don't make them too wide, just give them a little bit of width, because if it goes too narrow, it can be a bit too predictable when you're attacking. players in the box corners and free kicks should be set on the standard one.
FIFA 21 4-2-2-2 Best Player Instructions
Striker Instructions
Support Runs - Stay Central
Attacking Runs - Get In Behind & False 9
Interceptions - Normal Interceptions (Default)
Defensive Support - Basic Defence Support (Default)
Attacking Mid. Instructions
Defensive Support - Basic Defence Support (Default)
Support on Crosses - Get Into The Box For Cross
Positioning Freedom - Free Roam
Interceptions - Normal Interceptions (Default)
Defensive Mid. Instructions
Defensive Behaviour - Cut Passing Lanes
Attacking Support - Balanced Attack (Default)
Interceptions - Normal Interceptions (Default)
Defensive Position - Cover Center
Full Back Instructions
Attacking Runs - Stay Back While Attacking
Interceptions - Conservative Interceptions
Run Type - Overlap
Center Back Instructions
Attacking Support - Stay Back While Attacking (Default)
Interceptions - Conservative Interceptions
Goalkeeper Instructions
Saving on Crosses - Comes For Crosses
Saving Outside Box - Sweeper Keeper
Player Instructions Analysis:
Striker - for your most potent striker, put him on getting in behind, and stay centered, and your most creative striker should be on false 9, he'll drops in, and when the center backs move forwards. they'll have an easier pass into the striker. and both of them should be on basic defensive support.
Attacking Mid. - as for the two cams, both of them are on get into the box for crosses and free roam. choose to get into box crosses is because they can get in, you need more players in the box for scoring opportunities and to have the rest of the players back to cover the counter-attacks. the reason for free roam is because it allows them to drift all over the pitch and become very unpredictable. unpredictability is the key to being a good attacker, make it very difficult for your opponent to mark and defend them.
Defensive Mid. - both central midfielders are on cut passing lanes, cover center, and balanced attack. because sometimes it became a little bit tricky to link up from the midfield to the attackers when they drift wide. having these players on balance, it'll allow them to get forwards and having the full-back staying back to keep them in good shape.
Full Back - the two fullbacks are both on stay back while attacking, conservative inceptions, and overlap when they go forwards. the reason why they are on overlap is that the cams like to drift. sometimes they'll drift in when the fullbacks go forwards, they don't go forwards like wingers, but they do go forwards a little bit. they should stay on the outside rather than on the inside. conservative interception is a little trick that allows them to get back into position a lot faster than normal. if you have them on conservative inceptions they get back into position a little bit quicker. in attacking runs, it depends on the way you like to play, stay back while attacking is more suitable for this formation. it'll give you the solid back four.
Center Back - in terms of the two center-backs, those two players should be on conservative interceptions. because you don't want the two center-backs to be diving and jumping into tackles, it worked very well for that.
Goalkeeper - the goalkeeper is on comes to crosses and sweep keeper, the same as for all of our formations.