Madden 21 All-Time Winning Atlanta Falcons Team - The Best Theme Team In Madden 21
5/24/2021 4:39:38 PM

It's been a while, but it hasn't been that long since the Falcons theme team came out. this time is as good as any, and you can make it even better because we have more Falcons than we need. this Falcons theme team update is a big step up. all the theme teams are all good, some are a little bit better than others, and this one is stacked. the Falcons have been super lucky. so let's take a look at this team!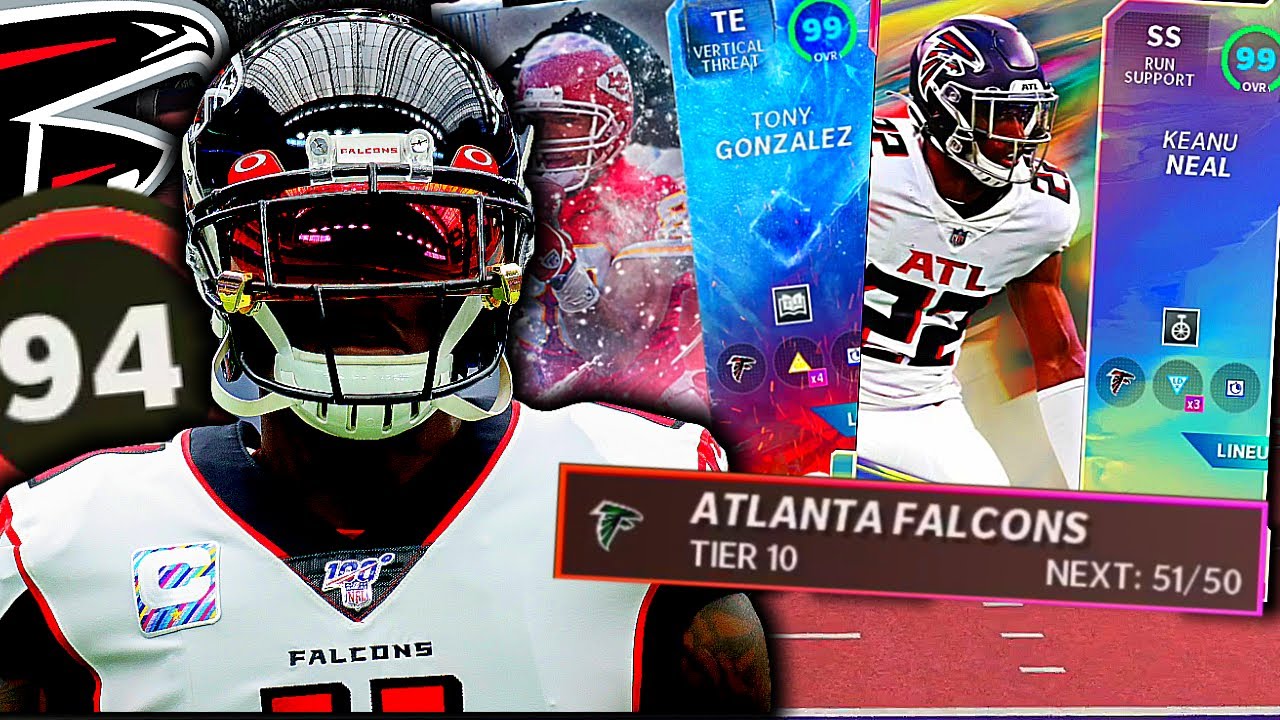 The Best Madden 21 Falcon Theme Team Analysis and Breakdown - The Best Theme Team In Madden 21
OFFENSE
Left Tackle 1 Matt Light

Left Tackle 2 Jake Matthews




Left Guard 1 Russ Grimm

Left Guard 2 James Carpenter




Center 1 Alex Mack

Center 2 Ryan Kelly

Right Guard 1 Bill Fralic

Right Guard 2 Chris Lindstrom




Right Tackle 1 Lincoln Kennedy

Right Tackle 2 Kaleb McGary




Tight End 1 Tony Gonzalez

Tight End 2 Kyle Pitts

Tight End 3 Hayden Hurst




Wide Receiver 1 Calvin Ridley

Wide Receiver 2 Cordarrelle Patterson

Wide Receiver 3 Julio Jones

Wide Receiver 4 Brian Finneran
Halfback 1 Micheal Turner

Halfback 2 Steven Jackson

Halfback 3 Warrick Dunn

Quarterback 1 Brett Favre

Quarterback 2 Michael Vick




Fullback 1 C.J Ham

Fullback 2 Keith Smith
Offense Line: There are a couple of Falcons starting in different spots, but it's mostly Falcons. if we have Falcons in a good spot, use them. so that's why the Alex Mack is there, also the brand new Kyle Pitts is on the list: 98 speed on a tight end. and we got Cordarrelle Patterson, he is a monster and he's even more of a monster on this team in particular. Michael 'Big Mike', Brett Favre, etc.
DEFENSE
Free Safety 1 Duron Harmon

Free Safety 2 Deangelo Hall




Right Outside Linebacker 1 Darryl Talley

Right Outside Linebacker 2 Foyesade Oluokun




Middle Linebacker 1 Sam Mills

Middle Linebacker 2 Patrick Willis

Middle Linebacker 3 Dejon Jones

Middle Linebacker 4 Ryan Shazier




Left Outside Linebacker 1 Mykal Walker

Left Outside Linebacker 2 Cornelius Bennett




Strong Safety 1 Keanu Neal

Strong Safety 2 Lawyer Milloy




Cornerback 1 Brian Poole

Cornerback 2 Deion Sanders

Cornerback 3 Dunta Robinson

Cornerback 4 Asante Samuel




Right End 1 Dwight Freeney

Right End 2 Osi Umenyiora




Defensive Tackle 1 Grady Jarrett

Defensive Tackle 2 John Randle

Defensive Tackle 3 La'Roi Glover

Defensive Tackle 4 Aaron Donald




Left End 1 John Abraham

Left End 2 J.J Watt
Defense Line: it's all Falcons at this point. so Duron Harmon, Darryl Talley, Sam Mills, Keanu Neal, Dr. Robinson who's our favorite corner in the game, lots of good cards. and the brand new Dwight Freeney as well. this is a ridiculous card on this team. there's Deion Sanders who's also technically new, like an upgraded version of Deion. he has all 99s too. This defense probably will give you a little bit of trouble.
SPECIAL TEAMS
Punter 1 Jack Fox




Kicker1 Shayne Graham




Kick Returner 1 Cordarrelle Patterson

Kick Returner 2 Devin Hester




Punt Returner 1 Deion Sanders




Long Snapper 1 Alex Mack




Kickoff Specialist 1 Shayne Graham
Special Teams: we have our sub linebackers, while good because we don't have enough safeties, that's the reason why but everyone else is going to be Falcons.
SPECIALIST
3rd Down Running Back1 Micheal Turner




Power Half Back 1 Warrick Dunn




Slot Wide Receiver 1 Julio Jones




Sub Linebacker 1 Derwin James Jr




Rushing Left End 1 Dwight Freeney




Rushing Defensive Tackle 1 Grady Jarrett




Rushing Right End 1 John Abraham




Slot Cornerback 1 Deion Sanders
Gameplay: start at the time [3:55]