How to Get Triple Doubles in NBA 2K21 - Fastest Way to Get Triple Doubles in NBA 2K21 MyTEAM
5/13/2021 11:28:50 AM

The evolution of Russell Westbrook to a free Dark Matter requires a certain number of Triple Doubles, how to evolve him easily? And how to get Triple Doubles fast in NBA 2K21? In this article, we are going to introduce the best way to get Triple Doubles in NBA 2K21.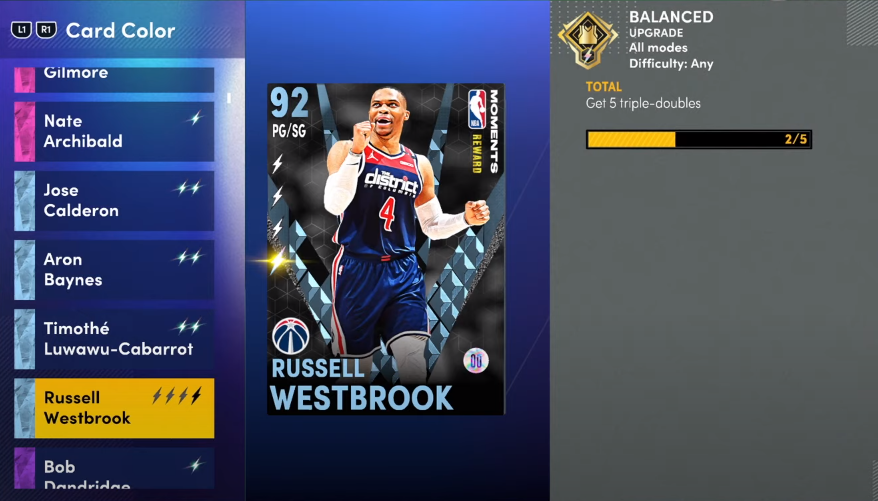 Related Read: NBA 2K21 Best Post Scorer Build Next Gen
NBA 2K21 Russell Westbrook Evolution and Requirements
Russell Westbrook is a point guard and shooting guard, he has four evolutions and makes his way to Dark Matter. What he needs to do? Let's go over every single requirement. Go over to the EVO requirements, the first one is to get a triple double, the next is to get 5 triple-doubles, then 20 triple-doubles and the last one is 10 triple-doubles. So you do actually need a number of triple doubles, a total of 36 triple doubles are required, to get him to a Diamond, you need 1 triple-double, the next one will take him to a Pink Diamond, then the one after that brings him to an Opal, the last one gets him to a Dark Matter.
Evolutions Requirements
Get 1 Triple-Doubles
Get 5 Triple-Doubles
Get 20 Triple-Doubles
Get 10 Triple-Doubles

How to Get Triple Doubles in NBA 2K21 Easily - Best & Fastest Way to Get Triple Doubles in NBA 2K21 MyTEAM
Then let's talk about the best challenge and best way to get a triple double in 2K21. When you go to your challenges, you are going to try to find a game that does not take a very long time, maybe you think it's going to take long for getting a triple-double, but not at all, it's not what you need. This does not require a playbook or anything, this is going to be very easy.
2015-2017 ASW (Spotlight Sim Challenge)
This is a super easy and fast method found by Bio2k. Head over to the Spotlight Sim challenge, what you need to do is choose the 2015-2017 ASW. You're actually gonna go to the second game, which is the 2015 Skills Challenge. Defeat the winner from the 2015 Skills Challenges competition, Patrick Beverley, and other participants in a game of Triple Threat. This is one you go up against Trey Burke, Kyle Lowry, and Patrick Beverley, you go up against three really undersized point guards which makes this super easy to grab boards.
2015 Skills Challenge
Difficulty: Pro
Triple Threat: 50 Points
Challenge Rules (Requirements): no restrictions
Reward: 500 NBA 2K21 MT
Win Conditions: Win the game and record at least 10 assists with any player
Then for the team, what you want to do is you can rock a bronze in this spot or anything like that, you can go ahead with Nico Mannion, but what you really wanna do is to have a player that can knock down threes, such as Harrison Barnes. Basically what you need is a player to shoot threes with and make sure it is a three-point shooter, because you will be able to get the games a lot fast. Then obviously, you need Russell Westbrook. This is going to be the easiest and fastest method to get triple doubles in NBA 2K21 MyTEAM.
All you want to do when they're running down is just back up, you just want to leave them open because you will see they're going to shoot very early, they're going to shoot a lot of wild shots and stuff like that, when you're doing that, all you want to do is just make sure that you're clicking under Westbrook and chasing every rebound, it's going to be super easy to get this done, you really want to make sure that you are focusing on the rebounds and the assist. Flopping with the other guy can help out a lot because when you do that, there's not going to be another good player chasing a rebound and it will literally just be Westbrook, you're not going to grab every rebound.
Lockdown Rewind (Weekly Challenges)
But if you don't have the 2015 Skills Challenge unlocked, there is one other way you can go, that is also in the Challenges section, but this one is on the weekly tab, you can head over to the weekly tab and select the Lockdown Rewind, this is a new challenge that just came out, if you go to the Lockdown Rewind, you can check it out, play against Gary Payton, Tony Allen and Shane Battier in a game of Triple Threat, a bit more difficult. This is your second best option.
Lockdown Rewind
Difficulty: Pro
Triple Threat: 50 Points
Challenge Rules (Requirements): no restrictions
Reward: 3 tokens
Win Conditions: win the game and record 3 team steals