NBA 2K21 Best Big Man Build Next Gen - Meta Center Build in 2K21
4/19/2021 2:08:39 PM

When you play centers in the game, how to perform well on the court? If you are looking for the big man build that's going to be really meta, in this article, let's get into the NBA 2K21 Best Big Man Build Next Gen that highlights the physical profile, attributes, takeover, and the best badge setup for every single category.
Related Read: Top 10 Best NBA 2K21 Jumpshot
NBA 2K21 Best Big Man Build Next Gen (PS5 & Xbox Series) - Best Center Build 2K21
What is the best big man build in 2K21? This is one of the best center builds in NBA 2K21, you can do everything that you want to do as a big man. With this build found by YaboiFitz, you can get a Post Playmaker, shades of Karl-Anthony Towns, Christian Wood, and Andre Drummond.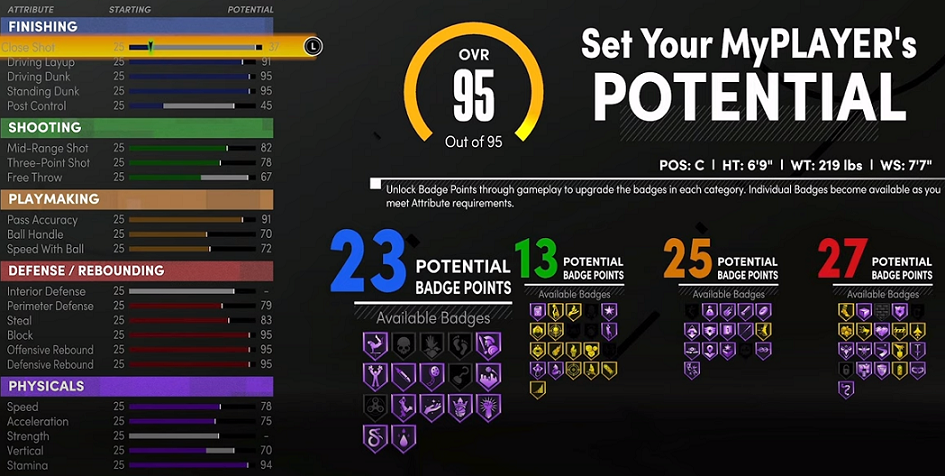 Position and Profile
Center is going to be the best position for a big man, even though we have built lots of center builds in the game, this is probably the best big man build. When it comes to the height, you can only go down to 6'9", that's pretty much the shortest side, the best way to get as many badges and attributes with this build is the setup, for weight, you can be at the center position 219, that's not quite minimum, it's a little bit above the minimum but you still gonna have almost max speed and max speed with ball, then you have max wingspan so that's going to be pretty much helping you have a lot higher of a block, offensive rebound, even perimeter defense and steal, also having higher driving layup and driving dunk, a lot of things come together. The only negative is that your three-pointer, mid-range shot and ball handle will be lower. All in all, this is going to be the best height, weight and wingspan for this build. Last, the selection of body type is completely up to you.
Position: C
Height: 6'9"
Weight: 219 lbs
Wingspan: 7'7"
Attributes
Starting with the physicals, you don't have to have a high strength on next-gen, 70 vertical is enough, we actually have a max speed which is at a 78, a max acceleration is at 75, then the stamina is at 94, you're gonna be able to actually get your speed over at 80 and get stamina up to a 98 at 99 overall. To get more finishing badges, you're going to max out the driving layup, driving dunk, and standing dunk, then you can be putting up your close shot to a 37 and a post control to a 45, for the 13 shooting badge upgrades, you're gonna be maxing out your three-pointer, mid-range then your three throw is gonna be at 67, which is actually a pretty decent three throw, the three-pointer that's going to get over at 80 easily at 99 overall. Next is the playmaking, you're going to be maxing out everything, continue to go to the defense and rebounding you're going to be maxing out pretty much everything not touching into your defense, so you'll have a max perimeter defense, steal, block, offensive rebound and defensive rebound to get 27 badge upgrades. If you are a person that thinks interior defense is not needed, this is going to be the build for you.
Finishing: Close Shot - 37, Driving Layup - 91, Driving Dunk - 95, Standing Dunk - 95, Post Control - 45
Shooting: Mid-Range Shot - 82, Three-Point Shot - 78, Free Throw - 67
Playmaking: Pass Accuracy - 91, Ball Handle - 70, Speed With Ball - 72
Defense/Rebounding: Interior - 25, Perimeter Defense - 79, Steal - 83, Block - 95, Offensive Rebound - 95, Defensive Rebound - 95
Physicals: Speed - 78, Acceleration - 75, Strength - 25, Vertical - 70, Stamina - 94
Takeover
For the best takeovers for this NBA 2K21 next gen big man build, there are a variety of choices, we did go with Spot-Up Precision and Finishing Moves, it is the best big man takeover, all the bonuses finishing moves or slasher takeover helps you get stuff like strength, vertical and that matters on big man build. You're going to be getting all the guard stuff that makes this big man build more overpowered because if you have takeover you're going to actually do the speed boost at a way higher rate.
Primary: Spot-Up Precision
Secondary: Finishing Moves
Badges
Not only are the attributes are perfect for what people are required in the game for a big man, but it also gets lots of badges. We have a badge like Slither Finisher that's gonna give us the best animations possible for every single situation and also help your dunk frequency, and Giant Slayer, which reduces your ability to get blocked. It's going to be incredibly hard to block this build. We have Heat Seeker to get takeover extremely fast from getting dunks or layups. This build gets around 90 badge upgrades, we'll go over the best badge setup for finishing, shooting, playmaking, and defensive below.
Finishing badges: Giant Slayer (HOF), Heat Seeker (HOF), Posterizer (HOF), Lob City Finisher (HOF), Slithery Finisher (HOF), Rise Up (Gold)
Shooting badges: Blinders (HOF), Catch & Shoot (Gold), Hot Shot (Gold), Hot Zone Hunter (Gold)
Playmaking badges: Bullet Passer (HOF), Handles for Days (HOF), Needle Threader (HOF), Quick First Step (HOF), Special Delivery (HOF), Unpluckable (HOF), Break Starter (Bronze)
Defensive/Rebounding badges: Chase Down Artist (HOF), Interceptor (HOF), Intimidator (HOF), Rebound Chaser (HOF), Rim Protector (HOF), Pick Pocket (Gold), Clamps (Gold), Off-Ball Pest (Bronze)