FIFA 21 TOTKS Incoming? - Release Date, Promo Offers, What To Invest In For Team Of The Knockout Stage Promo
4/13/2021 11:34:59 AM

The next promo in FIFA 21 Ultimate Team - Champions League Team of the Knockout Stage (TOTKS) is coming soon with some new offers, special packs and squads/cards representing stars of the Knockout stage of the Champions League competition. Which players do you think will be awarded the TOTKS card and who can be included in the TOTKS squad? In this guide, we are going to be presenting all the TOTKS details, the TOTKS release date, investing tips, what exactly is the Team of the Knockout Stage promo, what should we expect and what to invest in for Team of the Knockout Stage.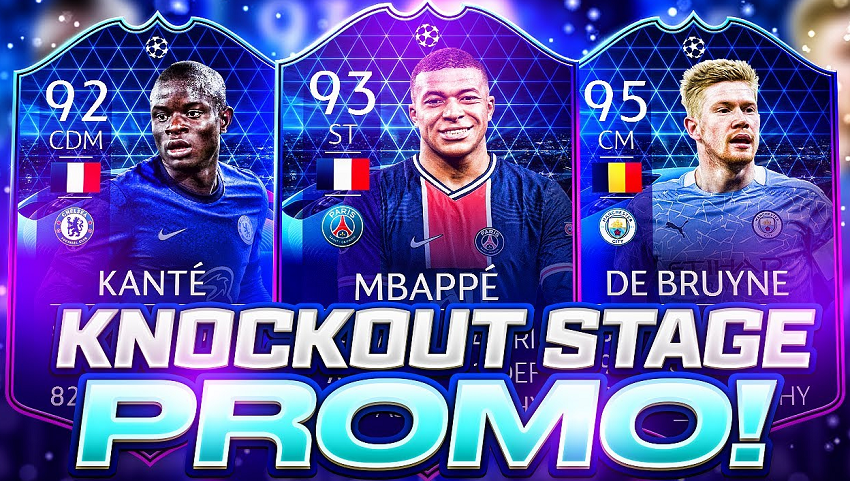 What Is Team Of The Knockout Stage Promo
Team of the Tournament Knockout Stage promo was seen in FIFA 19 and was going to be released in FIFA 20 but events in real life forced all Quarter Final matches to be rescheduled to August so the promo didn't happen. Now in FIFA 21 things are back to normal so we expect it to be released every soon!
Earlier in the season, EA Sports released the Champions League Team of the Group Stage, which celebrated the best players from the tournament's first six matchdays. To follow on from this, a separate Team of the Knockout Stage is usually released with upgraded editions of the best performers from the round of 16 onwards. A special squad of players from the Champions League is released as well as a small number of players from the Europa League. These players will be available in FUT packs for a week, while others will be available as untradeable cards through Weekly Objectives and Squad Building Challenges.
FIFA 21 TOTKS Release Time - When Will FIFA 21 Team of the Knockout Stage Start

The Knockout stage Champions League team is usually released after the quarterfinals stage of the tournament. So it is expected that the FIFA 21 Champions League knockout Stage team may be released on Friday, April 16.
What Can We Expect From FIFA 21 TOTKS Promo
- The last time we did see this promo back in FIFA 19, we do get some huge upgrades despite Team of the Season being very close, EA sports are clearly not afraid to give the biggest names, huge upgrades, that are going to be exactly the same to Team of the Season because we did get Lionel Messi 99 rated and his Team of the Season ended up being 99, that is the maximum rating that you can get. And also Cristiano Ronaldo got a 98 rated Team of the Knockout Stage card. So this year EA Sports are also going to be releasing huge names and giving them really big upgrades as well.
- FIFA 19 was the first time we saw Road to the Finals and that's when we did get introduced Team of the Group Stage and also Team of the Knockout Stage, so this is very significant and this is what it does look like we are going to be getting because this was the break between birthday team two and also Team of the Season. We did get this last time in FIFA 19 and that was on the 19th of April, so it is very likely that we are going to be seeing it this year and it could give EA sports an excuse to delay Team of the Season. But it is great that we are going to be seeing this promo and there is a potential for some huge cards.
Which Players Will Be In FIFA 21 Knockout Stage Squad
FIFA 21 TOTKS cards are awarded to the most informed players from the Europa League and UEFA Champions League on the Knockout Stage of the competition. However, sometimes players who have already been knocked out are included, especially if they put in excellent performances in the last 16 and last eight. Here is the list of predicted FIFA 21 Team of the Knockout players.
ST: Rashford - Manchester Utd - 85 to 87
CB: Acerbi - Lazio - 83 to 85
CB: Diego Carlos - Sevilla FC - 83 to 85
ST: Morata - Piemonte Calcio - 82 to 84
CF: Diogo Jota - Liverpool - 80 to 83
CB: Elvedi - M'gladbach - 78 to 82
LB: Theo Hernández - Milan - 80 to 85
RW: Nicolas Pépé - Arsenal - 82 to 84
LW: Raheem Sterling - Manchester City - 88 to 89
GK: Keylor Navas - Paris SG - 87 to 88
CAM: Alejandro Gómez - Atalanta - 86 to 88
RB: Alexander-Arnold - Liverpool - 87 to 88
ST: Haaland - Dortmund - 84 to 88
CF: Messi - FC Barcelona - 93 to 95
CM: De Bruyne - Manchester City - 91 to 92
CM: Kimmich - FC Bayern - 88 to 90
CAM: Bruno Fernandes - Manchester Utd - 87 to 90
FIFA 21 TOTKS Offers & Items
1. Lightning Rounds/Promo Packs
2. Daily Squad Building Challenges
3. Weekly Objectives
4. TOTKS Boosted Cards
5. Untradeable Players
FIFA 21 Team Of The Knockout Stage Investing Tips - What To Buy/Sell For TOTKS Event FUT 21
There may be some investments to make for the Champions League Team Of The Tournament Knockout Stage now. The market is already really low now, so this promo TOTKS really doesn't make anything that much lower, it's not going to make any panic really go crazy.
What To Buy/Invest In: The first you should do is to buy high-rated informed players 83, 84, 85, they might go up in price just because it won't be at packs for a week. They are really high in price now, if you see 83 and 84 go down in price, definitely go ahead and pick something up. Also to invest Lionel Messi, Fernandes, Rashford because these cards are quite valuable and they are still in and out of party bags, and we are probably going to be seeing them in Team of the Knockout Stage team. The last to invest in for TOTKS is UCL cards because the market will rebound a tiny bit UCL Cards, they could be of some value, they could drop a SBC which is going to make those UCL Cards go up and you're going to be able to definitely sell these cards and make some FUT Coins profits.
What To Sell: Sell Icons gold cards,there's gonna be a lot of players put back onto the market, so this is the best time to sell. Also to sell the special cards, If you have a special card that you think is going to get a Team of the Knocked Stage, go ahead and sell that card now.