NBA 2K21 Best Animations for Every Build - Best Jumpshots, Dribble Moves and Dunks for 2K21
4/6/2021 4:54:47 PM

What are the best animations for NBA 2K21? In this article, we bring NBA 2K21 best animations for every build, featuring the best dunk animations to get contact dunks, best dribble move animations, best shots animations and best jumpshot.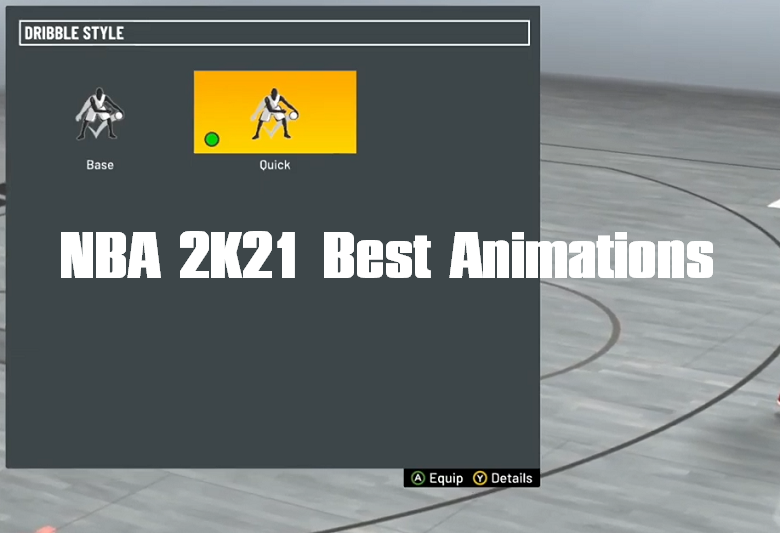 Related Read: NBA 2K21 Best Build Next Gen
NBA 2K21 Best Animations for Shots
Dribble Pull-Ups: Athletic 3 or Stephen Curry. Athletic 3 is the best if you want to do close shot fadeaway or mid-range fadeaway if you like to take three-point fadeaway, Stephen Curry is the better option.
Spin Jumpers: Normal 4 or Nate Robinson. You can use normal 4, but if you go towards, Nate Robinson looks much cleaner, smoother and faster than Normal 4. Nate Robinson gives you a lot of separation, you can maybe break ankles if you have the right badges on, if you have badges like Space Creator which can help you out getting more ankle breakers with Spin Jumper Nate Robertson.
Hop Jumpers: Nate Robinson. Nate Robinson is overpowered on current-gen, it gives you the step back, it gives you a fair bit of space and once you open, you're gonna knock it down. If you're shooting from the mid-range even from the three-point line, it's better than using James Harden which gives you too much separation you travel a little bit too much, but Nate Robinson is the best all-round hop jumper for the fade.
Post Fades: Fade 2
Post Hooks: Hook 2
Post Hop Shots: Post Hop Shot 4
Post Shimmy Hooks: Shimmy Hook 2
Park Jump Shot Emotes: Bouncey or Dab. Dab is a really good one, it's gonna help you green or white jump shot.
NBA 2K21 Best Animations for Dribble - Best Dribble Animations 2K21 Current Gen
Dribble Style: Quick. You can obviously use Shifty as well if quick a is not working for you, they're the two best dribble styles in the game.
Moving Crossovers: Pro 2. Pro two is the best moving crossover in the game.
Moving Behind The Backs: Pro 6. It looks a little bit slow, but it is easy to get open and gives you a little bit of space. It does help out tremendously in the long run.
Moving Spins: Pro 4. Pro 4 is pretty fast and will get you open more often than not.
Moving Hesitations: Pro 4. If you want to do that step back to the corner, pro 4 is the one for you
Sig Size-up: S. Curry or T. Hardaway. Try Tim Hardaway out if that doesn't work, try Stephen Curry out and it should work out pretty well.
Park Size-Up: Pro 7. It looks silky smooth really easy to use and it does give you a bit of separation
Basic Size-Up Packages: Pro 2. It's pretty glitchy.
Size-Up Escape Packages: Pro 1 or Pro 4. It is a personal preference on what Size-Up Escape package you want to use. They are the two best triple threat styles.
Triple Threat Styles: Normal 4 or Normal 5.
NBA 2K21 Best Animations for Dunk - Best Dunk Animations 2K21
Some dunk packages are going to be flashy some are going to be over-the-top easy stuff. Kobe Bryant is the best base on reverse dunk in the game, it actually is the best baseline reverse dunk in the game, you can have that with your baseline reverses. Under Basket Regular is the best for centers, Leaning Slams get you a little bit of top contact same with the Straight Arm Tomahawks, they also give you a few contact dunks as well. But you should never have back scratches on at all because back scratches don't help you at all.
NBA 2K21 Best Animations for Jumpshot - Top 3 Best Jumpshot in 2K21
Here are three custom green jumpshot for NBA 2K21 current-gen, they do not differ much and you can try any of them.
Jumpshot 1
Base: Kobe Bryant
Release 1: Rudy Gay
Release 2: Dwyane Wade
Release Speed: 75%
Animation Blending: Rudy Gay 70%/Dwyane Wade 30%
Jumpshot 2
Base: Tony Parker
Release 1: Rudy Gay
Release 2: Magic Johnson
Release Speed: 100%
Animation Blending: Rudy Gay 85%/Magic Johnson 15%
Jumpshot 3
Base: Jump Shot 70
Release 1: Rudy Gay
Release 2: Magic Johnson
Release Speed: 100%
Animation Blending: Rudy Gay 85%/Magic Johnson 15%