NBA 2K21 Best Amethyst Cards - Best Cheap Amethyst 2K21 MyTEAM
3/2/2021 4:36:11 PM

You have lots of options of players in NBA 2K21 MyTEAM mode, to build a dream team consists of top tier players with the least cost, follow us to take a look at the top 5 Best Amethyst Cards in 2K21, and see which cheap MyTEAM Amethyst card you should buy and use in the game.
Top 5 NBA 2K21 Best Amethyst Cards - Best Cheap Amethyst NBA 2K21 MyTEAM
The following NBA 2K21 MyTEAM Amethyst cards are regarded as the S-tier players, and most of them are budget or even free options.
Pascal Siakam - PF/SF - 91 - 6'9"
NBA 2K21 MyTEAM Season of Giving Amethyst Pascal Siakam is a well-rounded player, he has amazing finishes, great three-point shoots, the defense is also insane, he kind of plays an all-around role really well. Pascal Siakam is a 26-year old Cameroonian professional basketball player who plays at the Power Forward or Small Forward position, when it comes to his Amethyst card, it has 86 shot 3pt, 85 shot mid, 85 speed, 85 acceleration, 95 stamina, 85 standing dunk, 80 driving dunk, 86 interior defense, 86 lateral quickness and 85 block. He also got 36 gold badges including Consistent Finisher, Contact Finisher, Catch & Shoot, Corner Specialist, Green Machine, Hot Zone Hunter, Quick First Step, Downhill, Clamps, Intimidator, Rim Protector, etc. Gold Rebound Chaser, Box, and Worm make rebounding one of his strengths.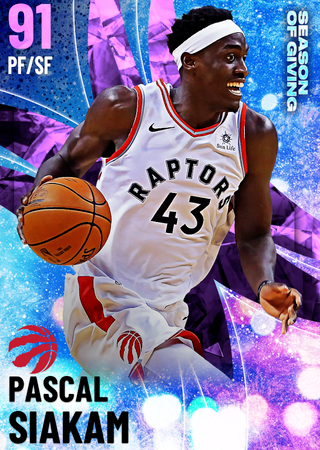 Jrue Holiday - PG/SG - 91 - 6'3"
Amethyst Jrue Holiday, also comes with the 2K21 MyTEAM Season of Giving Collection rewards, is considered one of the greatest Amethyst player, an amazing defender and playmaker, he hits a pretty consistent three-point shot, you could even add deep threes on him to make him to the next level. Looking at his stats, 89 shot mid, 89 shot 3pt, 84 free throw, 89 driving layup, 89 speed, 89 speed with ball, 96 perimeter defense, 96 lateral quickness, 94 steal, 95 defensive consistency. One HOF badge and 41 gold badges, he has gold Acrobat, Relentless Finisher, Giant Slayer, Bail Out, Downhill, Lob City Passer, Quick First Step, Dimer, Clamps, Interceptor, Intimidator, Pick Pocket, etc. You can get this card for free as long as you complete specific challenges.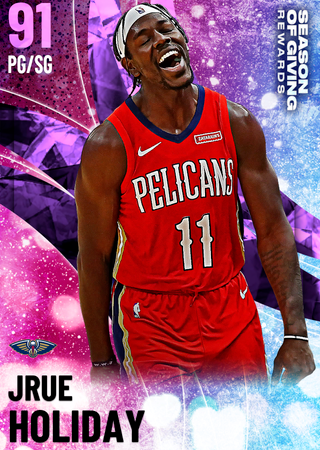 Hedo Turkoglu - SF/PF - 90 - 6'10"
Hedo Turkoglu feels super quick, also finishes really well, he is 6'10", once you badge up that defense, he is a capable defender. MyTEAM Amethyst Hedo Turkoglu is one of the best cheap card in the game for only around 7K NBA 2K21 MT points, this card looks pretty good, he comes with a 96 offensive overall and 87 defensive overall. Going on to his attributes, he has an 81 driving layup, 90 mid-range shot, 89 three-point shot, 80 driving dunk, looks good in offensive aspect, 83 ball handle, 80 pass IQ, 75 passing accuracy, 75 block, 78 steal, 80 perimeter defense, 85 speed, 83 speed with ball, go down to his mental stats, he looks pretty solid, 80 defensive consistency and 95 offensive consistency. He also comes with one HOF badge Catch & Shoot, as well as 26 gold badges. Turkoglu's amethyst card highlights his scoring ability and ball handles.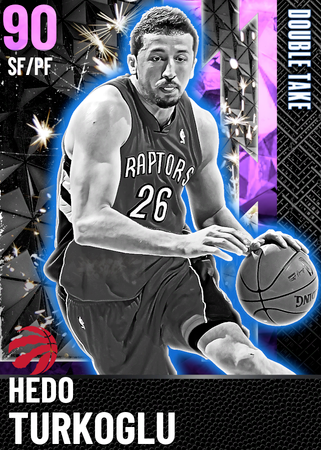 Donovan Mitchell - SG/PG - 91 - 6'1"
Amethyst Donovan Mitchell is one of the possessed cards, even though he only has 6'1", he has a 6'10" wingspan, which allows him to display out of his mind. Donovan Mitchell is a top-tier point guard in the game. 95 offensive overall, 89 defensive overall, 86 three-point shot, 90 driving dunk, 94 speed, 94 speed with ball, and good playmaking attributes. He does have Hall of Fame Quick First Step, gold Acrobat, Fancy Footwork, Slithery Finisher, Green Machine, Tireless Shooter, Stop & Go, Bail Out, Interceptor, etc. He can get the Clamps and Range Extender upgraded. When he is all the way upgraded, he is going to come with more than 40 gold badges and going to be absolutely ridiculous. Excels in shooting open shots, and driving in the paint, this card is really a steal. Amethyst Donovan Mitchell is a best value point guard, if you want to buy a cheap MyTEAM card, Mitchell's amethyst card is worth investing in.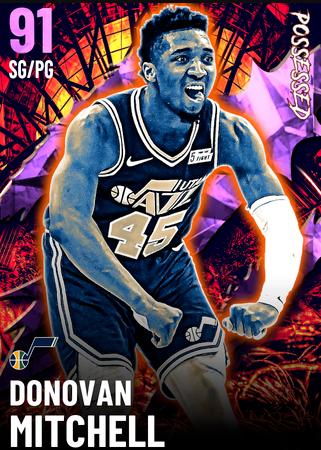 Chris Paul - PG/SG - 91 - 6'0"
Chris Paul is the best ambitious PG in the game, and relatively budget, the only thing Chris Paul can't do is dunk and even has the correct layup package. Chris Paul is a great cheap Amethyst card released in 2020 December, this card is from the all-star pack a few years ago. 95 offensive overall, 90 defensive overall, 92 driving layup, 92 mid-range shot, 90 three-point shot, 93 speed, 93 speed with ball, 95 passing accuracy, 89 perimeter defense, 94 lateral quickness, 90 steal, Chris Paul has elite stats, he gonna be able to clamp down on the perimeter, can't dunk, no flashy, no driving dunk, only one HOF badge Giant Slayer, but comes with 37 gold badges. This card is phenomenal.