How to Get More Contact Dunks in NBA 2K21 - NBA 2K21 Contact Dunk Badges, Requirements and Tips
2/22/2021 12:02:32 PM

Even though you unlocked the required animations, it's also challenging for how to get contact dunks in NBA 2K21 every time. In this article, we'll sort out the essential things to trigger contact dunks involves NBA 2K21 Contact Dunk requirements, badges, animations, and tips.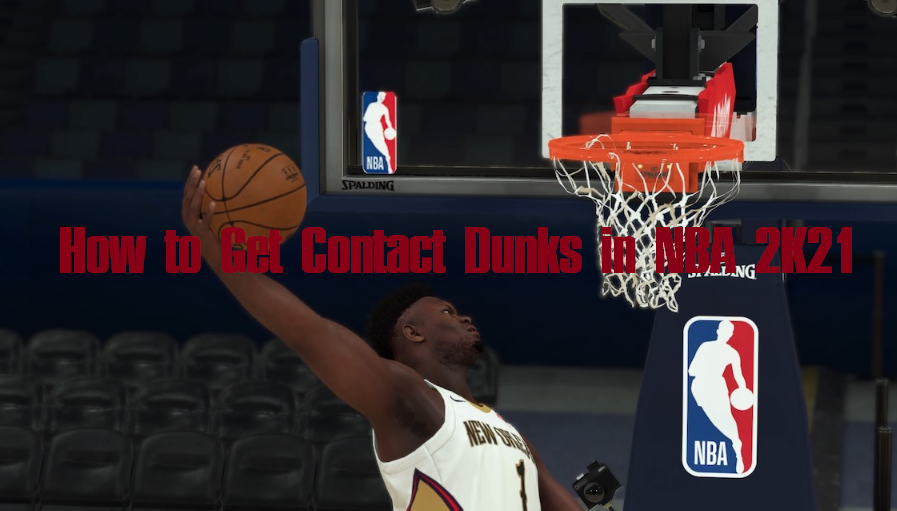 How to Get Contact Dunks in NBA 2K21 - NBA 2K21 Contact Dunk Badges, Requirement and Tips
How to trigger contact dunks in 2K21 and how to get more contact dunks? Based on the video of Y2K Sports and Deykwon, let's go through the main points of the contact dunk tutorial.
1. Achieve Contact Dunk requirements
Firstly, figure out the requirement for each contact dunk. There are four different types of packages: Pro Contact Dunks, Elite Contact Dunks, Small Contact Dunks and Bigman Contact Dunks. To get these contact dunks, you need to have a minimum rating of driving dunk or standing dunk. The requirement of Small Contact Dunks and Big Contact Dunks also based on your position or build.
Pro Contact Dunks: Driving Dunk 84+
Elite Contact Dunks: Driving Dunk 85+
Small Contact Dunks (PG, SG, SF): Driving Dunk 85+
Big Contact Dunks (PF, C): Driving Dunk 50+, Standing Dunk 75+
2. Purchase Contact Dunk package
If you reach the requirement of a specific contact dunk, you can unlock it. For example, if you are a point guard and also have a driving dunk higher than 85, you can buy the Small Contact Dunks package from the Animation Store. Choose at least one of these contact dunk packages.
3. Apply them in My Animations
Once you have purchased the contact dunks, go over to My Animations, apply these contact dunks in the DUNKS AND LAYUPS tab.
4. Get the best Contact Dunk badges
When it comes to contact dunks, badges are one of the most important things. What are the best finishing badges to get contact dunks? The two main badges you should have are Contact Finisher and Relentless Finisher, which will directly give you more contact dunks. When you equip Contact Finisher and if you're a slasher, you will be able to get through more contact in your layups and it also will give you more contact dunks, it's recommended to have it on Hall of Fame. Relentless Finisher allows you to do more dunks while using less energy, so it will give you a strong finish at the rim without wasting so much energy, this is an essential badge. You don't need to have it on HOF, but the higher level you can put these two badges on, the better. For other badges, you can also choose Slithery Finisher, which helps you get more dunk animations. You don't need to have this on HOF, silver, or gold just fine but the higher that you have it on, you'll find that you can get better animations. These badges are pretty good for finishing. If you want to do more dunks, you can also equip some playmaking badges, like Quick First Step, which helps you to be more explosive out of triple threats and it gives you almost a speed boost when you're driving at the rim. Have it on at least bronze. If you only have one playmaking badge, then put it on Quick First Step. Another ideal playmaking badge is Handles for Days, you can have it on gold, this will help you to save energy when you're dribbling.
5. Tips for how to get more Contact Dunks
- One tip that is helpful to get more contact dunks is doing baseline drives towards the rim when the defender is standing in the painted area this is a good chance to just drive out the rim and go for a dunk.
- When you take off, you should be nowhere outside, nowhere above the free-throw line. The paint is called the dead zone, especially for posterizing, if you are not above the free-throw line and in the square box in that rectangle which is called the paint, then that's an easy dunk. The deeper the player are in the dead zone, the easier it is to dunk.
- You need momentum if you're gonna go for a contact dunk. Speed boost every time, if you have the speed you going straight at someone almost a contact dunk every single time. Hop steps great way to get contact dunks and dunks in general.
- Early contact is a great way to get contact dunks.
- When it comes to the angle, if you were a slasher you should already notice if you're going up from the wing of the baseline, that's almost a 90 or 95% chance you're gonna get a contact dunk.
Welcome to order cheap NBA 2K21 MT for next gen and current gen at the lowest prices on UTPLAY.