Madden 21 TOP 10 Quarterback Ranking List - Who is the Best Quarterback in Madden 21 Ultimate Team
2/18/2021 5:35:35 PM

There are more cards to come in this year's Madden, we have a different top ten quarterback in Madden 21 Ultimate Team! And without further ado, let's get right into it!

- 10 - Rich Gannon
Sitting at number 10 we have Rich Gannon. He is our number 10 on the list. There are some honorable mentions on this list like Russell Wilson. Brett Favre, etc. but this Rich Gannon is our number 10 in this list. he is a little lower than people would generally expect him to be because that release isn't the best anymore and his one benefit was being a Hot Route Master and Gunslinger at once. He is getting overpassed by a lot of quarterbacks now and there are many of them now in the game, but this is a very solid card. he's been in the game for a while, he was our number one on the list at a point when he first came out. When he came out, he was easily the best quarterback in the game. he's a solid quarterback with decent speed to get out the pocket. A great all-around player, honestly very cheap as well right now too.
- 9 - Michael Vick
You have to have a little more skill gap with them this year compared to other years, because last year or previous Maddens, you could sprint out with a quarterback this fast, but for this man, it takes a little more than that, especially with NextGen involved as well. But Michael Vick is an all-around great player. he is at number nine on this list, but he could be way higher in the right hands of the right player.
- 8 - Philip Rivers
Philip Rivers is our number eight on the list, he is a slow player sitting at 72 speed. But he does have Hot Route Master and Gunslinger and he also has a very fun release. He is a fun player to play with if you have ever played with this card or seen people play with it.
- 7 - Alex Smith
Number seven we have the NFL honors Alex Smith comeback player of the year card. He is a field general, so he'll get that Hot Route Master and Gunslinger. He is an all-around great card as well, a speedy quarterback. Every stat he has is insane.
- 6 - Josh Allen
Number six on this list, we have the NFL honors, Josh Allen. You'll see a lot of honors cards on here, but he has 90 base speed, he does have the power-up, so that does make him very like honestly a very good card. The throw on the run is insane, throw power is insane, everything is an excellent piece on this card. However he's gotten four upgrades, he is an expensive player to upgrade and power up. But an all-around great player, a top 10 quarterback easily in this game right now.
- 5 - Tom Brady
Number five is Tom Brady. He's a 99 super bowl MVP card. He has plenty of 99 stats. The throwing power, the short accuracy, the medium, the deep accuracy, the throw under pressure, everything is insane, he gets the Hot Route Master and Gunslinger, conductor and he has five ability slots.
- 4 - Justin Herbert
Number four on this list we have Justin Herbert. he is a great card, despite the comparison with Josh Allen, he's a great card and 100% should be on this list.
- 3 - Deshaun Watson
Deshaun Watson is an expensive player. Sitting at a 90 phase speed. He has 96 throws on the road 97 throw power. Every single stat is excellent. he can get gunslinger and Hot Route Master when powered up. A very fast quarterback, he is probably that player that's going to take over the team next unless they give us a power pass.
- 2 - Randall Cunningham
Randall Cunningham has a 93 base speed, 97 throw power, everything is a little bit better than that Deshaun Watson. He is super expensive right now, the ultimate legends are kind of unpackable. The market is pretty much dead with ultimate legends. There are about five of them up right now, they're not LTD. Anyways, Randall Cunningham is an all-around great card easily a top three.
- 1 - Aaron Rodgers
Sitting around three million coins, we have the MVP, Aaron Rodgers. He gets Gunslinger and Hot Route Master, he has the best release in the game. so Aaron Rodgers easily atop one quarterback in the game right now no questions asked. There is no one even close to him.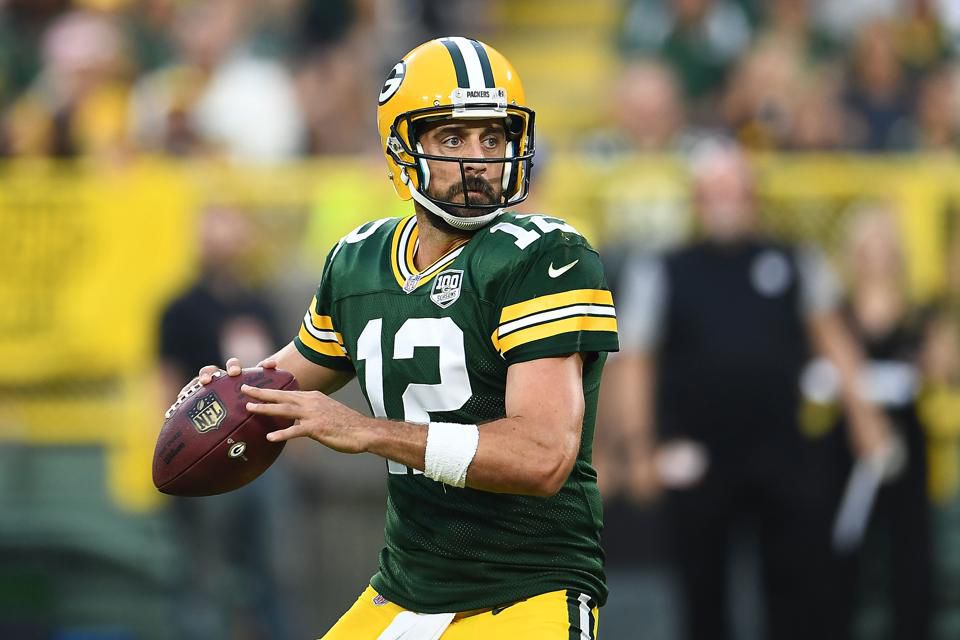 What do you think of our Top 10 quarterback in Madden 21 Ultimate Team? Click HERE to see more.