NBA 2K21 Next-Gen Best Center Build - How to Make Best Build for NBA 2K21 Next-Gen
11/16/2020 3:17:44 PM

NBA 2K21 has launched on PS5 and Xbox Series X and Series S for several days, even though some significant changes have made in the MyPlayer Builder, it still acts similar to it is on the current-gen. Players no longer choose one type from multiple preset skill breakdown pie charts, instead, more control over each individual rating is allowed. Now, let's explore the NBA 2K21 next-gen best center build and how to create your build better.
Related Read: Top 10 NBA 2K21 Best Cheap Cards
NBA 2K21 Shooting Tips & Guide
NBA 2K21 Next-Gen Best Center Build - NBA 2K21 Next-Gen Best Build for Center
Many players prefer the point guard position, while with a center build, you can have a versatile player who is capable of the offensive and defensive sides of the court and help you dominate the game. Here we'll run through a NBA 2K21 center build for next-gen console with breakdown.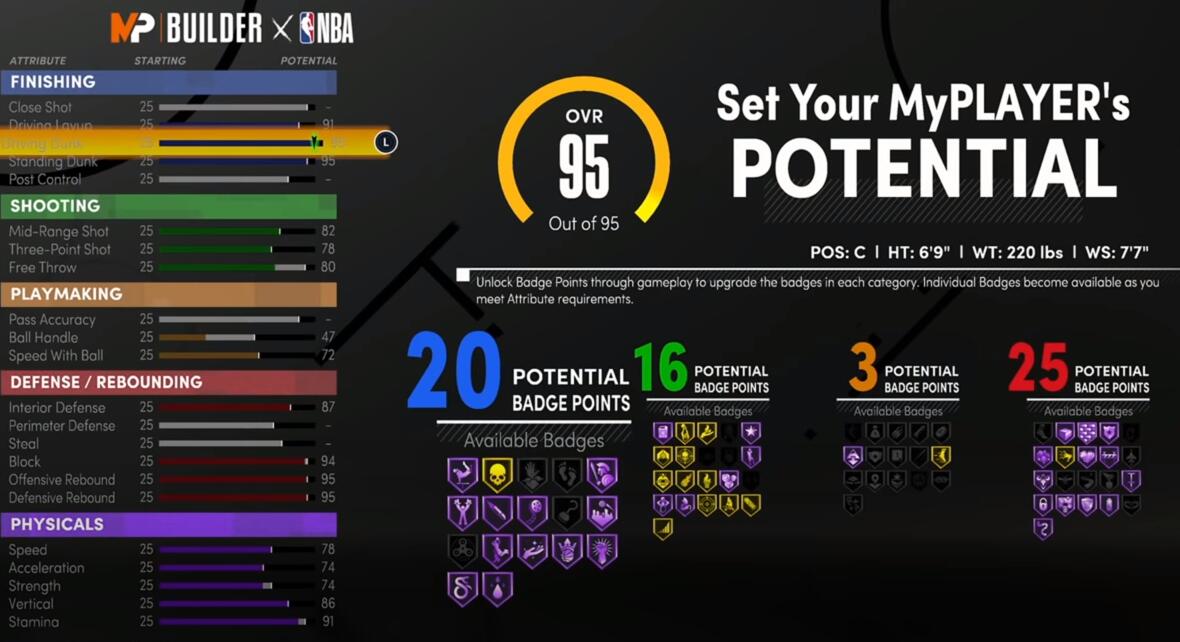 Position: Center
Height: 6'9"
Weight: 220 lbs
Wingspan: 7'7"
Body Shape: Built
Main Attributes: Driving Layup, Driving Dunk, Standing Dunk, Mid-Range Shot, Block, Offensive Rebound, Defense Rebound, Stamina, Vertical, Interior Defense, Free Throw, Three-Point, Speed, etc.
Badges: Acrobat (HOF), Backdown Punisher (Gold), Fearless Finisher (HOF), Giant Slayer (HOF), Heat Seeker (HOF), Highlight Film (HOF), Lob City Finisher (HOF), Posterizer (HOF), Pro Touch (HOF), Putback Boss (HOF), Rise Up (HOF), Slithery Finisher (HOF), Tear Dropper (HOF), Antifreeze (HOF), Blinders (Gold), Catch & Shoot (Gold), Clutch Shooter (HOF), Corner Specialist (Gold), Deadeye (Gold), Fade Ace (HOF), Green Machine (Gold), Hot Shot (Gold), Quick First Step (Gold), Downhill (HOF), Post Move Lockdown (HOF), Defensive Leader (Gold), and more.
Takeovers: See the Future and Spot-Up Precision
How to Create Build in NBA 2K21 Next-Gen - NBA 2K21 Next-Gen Best Build Tips
When you enter the MyPlayer Builder, the first thing you need to determine is the position, including Point Guard, Power Forward, Small Forward, Center, and Shooting Guard. You can choose any one of them, but customize your player based on that. In NBA 2K21 Next-Gen MyPlayer Builder, the upper limit of each attribute is given to the player. Obviously, you can't fill all the attributes. Different settings have different restrictions. However, you will have more control in creating the type of player you want to be. You can take some areas as the priority, but you also need to make some compromises in other fields.
You have many chances to create different players and builds. When you go to the end of the creation, the game will ask if you want to test or edit your build, you can press B/Circle to go back or select your Takeover then continue to save your build. So do not limit what you should create, you can try and test and find your best one.
NBA 2K21 MT for sale at UTPLAY with cheapest prices and fastest delivery now.