Best FIFA 21 Squad Builder - 200K Meta Squad Builder With FUT Formation 4-3-3
10/15/2020 11:57:35 AM

Today we share the best 200K meta squad builder on FIFA 21 Ultimate Team with detailing why these players are meta and why this is the best team you can buy for 200K.
The same as before, there are plenty of squads in FIFA 21 Ultimate Team, different players and teams have different playing customs and styles. Building the most suitable and the best squad can have a huge impact on the outcome of a match and may help you get more wins. Utplay.com shares this overpowered FIFA 21 meta squad 200K for you. We're going to be using the FIFA 21 formation/lineup 4-3-3. Because for chemistry purposes, the 433 generally the better formations out of them, all for just to get the chemistry links. This team is super sub and can be used in FUT Champions helping you better start your FIFA 21. This best FIFA 21 squad builder meta also features some top high rated players such as Fernando Torres, Pablo Sarabia, Felipe, etc. Here we'll show you all the overpowered players you can buy for 200K FUT Coins in the meta team FIFA 21.
FIFA 21 Best 200K Meta Squad Builder & The Best Team To Play In FIFA 21
Here is the best cheap FIFA 21 team 200K with top players in Ultimate Team.
Formation: 4-3-3
Team Chemistry: 100
Team Rating: 80
Players List:
Keylor Navas - GK - Paris SG - 87
Jesus Navas - RB - Sevilla FC - 84
Marcos Llorente - CM - Atlético de Madrid - 82
Carrasco - LW - Atlético de Madrid - 82
Marquinhos - CB - Paris SG - 85
Denayer - CB - OL - 79
Memphis Depay - CM - OL - 85
Ridgeciano Haps - LB - Feyenoord - 77
Quincy Promes - CM - Ajax - 82
Douglas Costa - LW - Piemonte Calcio - 84
Nainggolan - ST - Inter - 83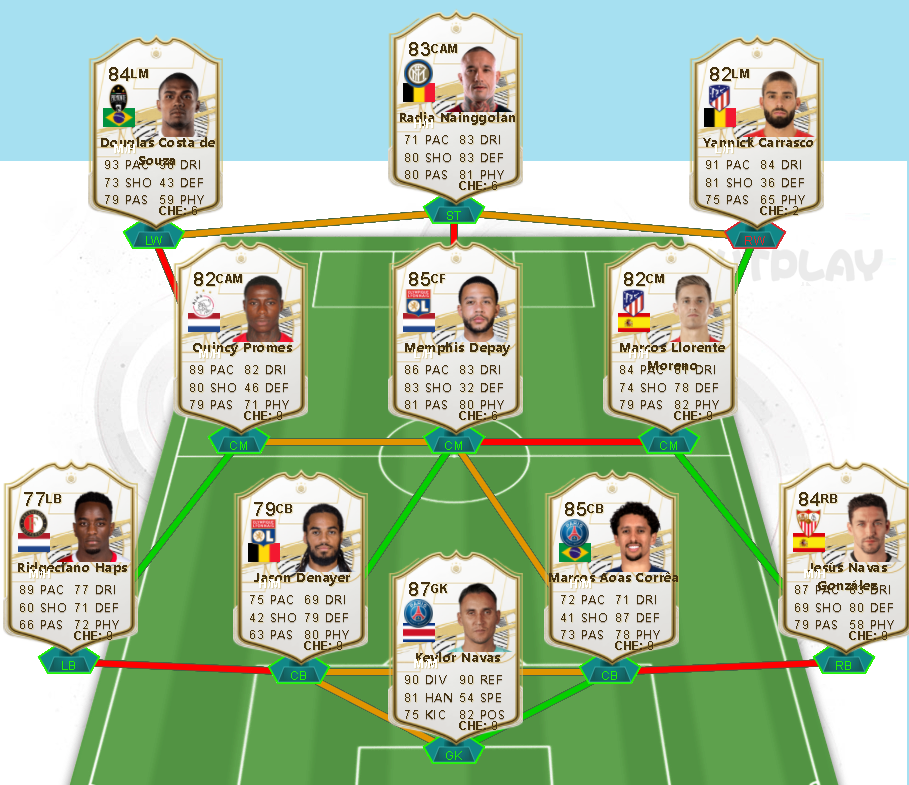 Players Review
Navas: This guy is incredible, one of the best goalkeepers and he plays really well in game. It's more about like reactions on this team as he's got 90 diving and 90 reflexes, so it's a no-brainer, but it just comes into fruition from the links to your center box. Price: 13.25K-PS4, 15K-XBOX ONE, 15.5K-PC.
Jesus Navas: His 80 defending is so good, his attacking is incredible whether that's to do with his agility, he's fast as well with 90 acceleration and 84 sprint speed. Obviously, his passing is good, so him balls down the line which this year incredible. He's just so key to the all-round play. Price: 11K-PS4, 11K-XBOX ONE, 13.5K-PC.
Marcos Llorente: He's got 3-star skill moves, 4-star weak foot and high/high work rates. 88 sprint speed is great, he can tackle, he can pass, he can dribble, you could use this card all year probably until the Team of the Season, the Team of the Year and he wouldn't feel out of place. He's incredible, the thing is really shooting isn't even that bad as well the way he breaks up. Price: 15.75K-PS4, 8.8K-XBOX ONE, 14.5K-PC.
Carrasco: He has played left attacking mid in the game, it is probably one of the crucial players, he might have contributed most goals, and assist, he's a club teammate of Marcos Llorente at athletic commentary get that winning mentality in the team. He's nearly 6 foot, 4-star skill moves, 4-star weak foot is great. His shooting is amazing, he's got 90 agility and someone that tall is quite rare especially at this price. Price: 3.6K-PS4, 2.3K-XBOX ONE, 3.5K-PC.
Marquinhos: 85 rated gives a strong link to an 87-rated keeper and has 87 stand tackle he can pass out the back as well. He's got really great jumping of 89 and 86 composure. Price: 12.25K-PS4, 13.5K-XBOX ONE, 12.75K-PC
Denayer: With 75 pace, he's not slow either, he's relatively quick, he's not got low agility, he's stand taculator, interceptions 82 and for some reason, people will avoid running into him to get him and turn back. Price: 850 Coins -PS4, 1.4K-XBOX ONE, 1.9K-PC.
Depay: He's got 5-star skill moves and high/low work rates. 83 finishing is amazing, 87 sprint speed is great, he can pass, he can dribble, he can flip flat. Price: 21.25K-PS4, 21.5K-XBOX ONE, 29K-PC.
Haps: He's got brilliant pace at 89, acceleration at 88 and sprint speed at 89. 85 agility is great, 81 stamina is super sub. He can run fast, he can tackle well, he can control the ball. Price: 700- PS4, 700-XBOX ONE, 700-PC.
Quincy Promes: He's got 5-star skill moves, 4-star weak foot. He's obviously quick, he's got that agility to turn that skill to do a flip-flop. He runs very fast with 89 pace, 89 acceleration and 90 sprint speed. His dribbling is great, agility at 85, reactions at 83, dribbling at 83 and composure at 81. Price: 1.8K-PS4, 1.9K-XBOX ONE, 1.9K-PC.
Douglas Costa: He's 5'8'' tall, has high/medium work rates, great 5-star skill moves, 3-star weak foot. His pace and dribbling stats are high enough to literally be in any team. You'll make at any point during the year. His finish is a bit bad and his stamina is a little terrible, but when he's on the ball, he can play for any team at any coin level. Price: 57K-PS4, 47K-XBOX ONE, 45.5K-PC.
Nainggolan: He's got high/high work rates, 3-star weak foot and 3-star skill moves. He's not got one like outstanding thing like pace, but he's great at shooting, he's great at passing, great at physicality, and great at defending, so he's really reliable in the middle. Price: 15K-PS4, 10.2K-XBOX ONE, 16K-PC.
That's all about this FIFA 21 starter squad 200K meta. What do you think of it? Is that worth building? For more best FIFA squad & formations, check Utplay news list. And we also sell cheap FIFA 21 Coins with fast delivery, best service.