FIFA 21 4-2-2-2 Best Tactics & Instructions - How To Use 4-2-2-2 FUT Formation Effectively
10/9/2020 9:29:41 AM

It's time we share with you the best FUT 21 formation again!
After the best 4 FIFA 21 formations presented last time, today we bring you a FIFA 21 4222 best tactics and instructions guide (shared by the famous Youtuber RG11), explaining how to play 4-2-2-2 which is possible the best meta formation in FIFA 21, helping you achieve great success in FIFA 21 Ultimate Team!
FIFA 21 4-2-2-2 Formation Tutorial - Best Tactics & Instructions, How To Use 4222 Formation Effectively
FIFA 21 is finally available, and most players should be busy building their own FIFA 21 team & squad. But before that, knowing what custom tactics work with each of FUT team is also important and that's may be the key to success. As EA Sports have given FIFA 21 custom tactics another reset for the new game this year, lots of people are not familiar with the early meta, but we've got you covered. Now check out this best FIFA 21 formation guide, get to know how to use 4-2-2-2 formation effectively as well as the 4-2-2-2 best custom tactics and player instruction to go with it. We also present the analysis of gameplay for this formation, detailed breakdown of strengths, and weakness of formation 4222.
Read more: Top New Wonderkids To Buy & Sign In
FIFA 21 Official Top 100 Player Ratings
Top FIFA 21 FUT Formation 4-2-2-2
Mode: Attacking/Defensive
Available in: FUT / Career Mod / Kick-off / Tournaments
This formation was very popular and commonly used in FIFA 19, FIFA 20 and works also very well in FIFA 21. It is designed for the games where you want to score by ground passed. It's a bit more compact than the classic 4-4-2 and offers the advantage that there are two strikers in the front allowing you to create more goal-scoring opportunities.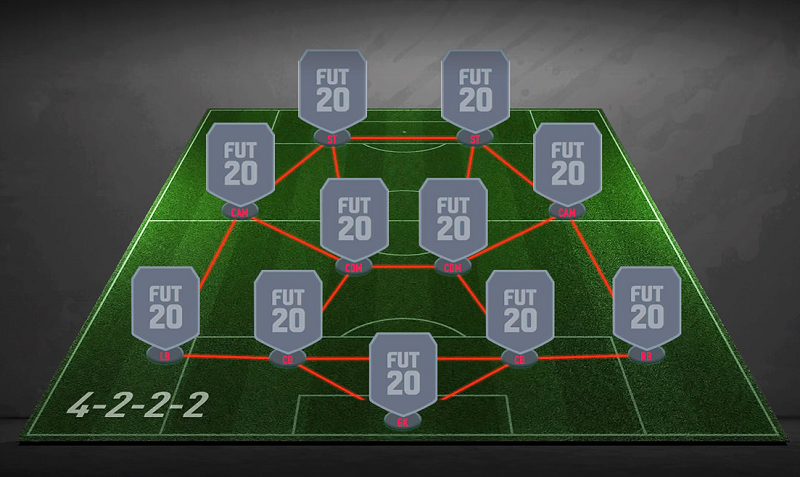 Having two CAM players and two CDM players will help your team to be able to perform attacks and defenses with more players. Attacking using 4-2-2-2 formation will require to be more on the ground and using the central area of the field.
Tactics For 4-2-2-2 FUT Formation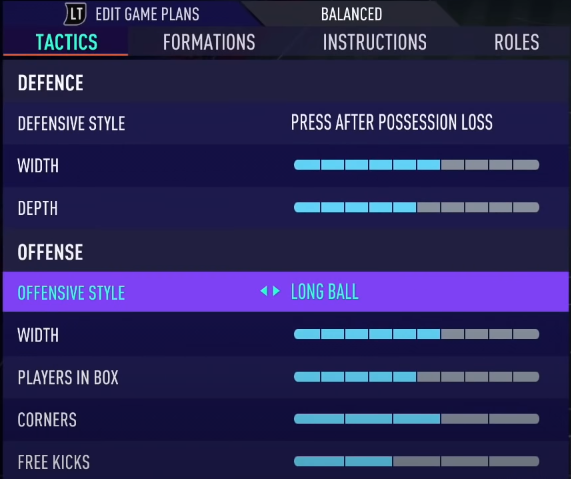 Defensive Style: Press after possession loss
Width: 6
Depth:5
Offensive Style: Long ball
Width: 6
Players in Box: 5
Corners: 3
Free Kicks: 2
Analysis: Play on a press is so effective because stamina doesn't really get drained, it might change when a patch comes out. Width and depth is too important, there's no benefit to going super high or low, so keep standard around 5 or 6, never lower than 4 and never higher than 6. Go for long ball on the offense, as it seems to be one that suits the meta formation and attacking formation and it can help to achieve a massive success. 3 for players in box corners, and 3 corners, 2 free kicks.
FIFA 21 4-2-2-2 Player Instructions
Goalkeeper: Balanced, sweeper keeper (the better goalkeepers you have, the more effective this will be)
Full Back: Balanced attack (if you are a good defender), stay back while attacking (if you struggle defensively)
Defensive Mid: Cut passing lanes, stay back while attacking
Attacking Mid: Basic defence support, balanced crossing runs, free roam (which is super overpowered)
Striker: Balanced width, get in behind, basic defence support
Full-back requirements:
- Min 90 + place (after chem style)
- 80+ short long passing and crossing (after chem style)
- 88+ defending (after chem style)
- Bonus 80+ dribbling and 85+ Stamina
Attacking-mid requirements:
- 72-85 pace (after chem style)
- 88+ dribbling, passing, shooting (after chem style)
- Min 4 week foot and skill moves
- 85+ stamina with high/medium work rates
If you find this FIFA 21 4-2-2-2 tactics & instructions guide helpful and want to see more, make sure you follow our news list on utplay. Various kinds of the most popular and hottest FIFA 21 formation guide and custom tactics will be updated to help you find the most suitable formation and tactics in FIFA 21. And welcome to buy FIFA 21 Coins cheap to build FUT 21 best squad, we'll try our best to serve for you.