NBA 2K21 Best Badges for All Builds - Best Shooting, Playmaking, Defensive and Finishing Badges in 2K21
10/3/2020 10:52:04 PM
There is a total of 74 badges available in NBA 2K21, what's the best badges to use and what's the worst one? In this article, we'll go through NBA 2K21 best badges for all type of builds including shooting, defensive, playmaking, and finishing, as well as the positives and reasons for using them.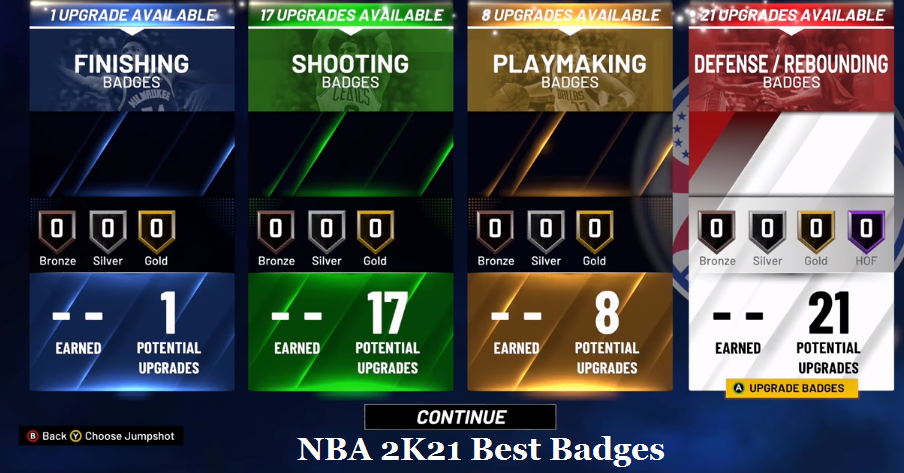 Related Read: How to Get Badges Fast in NBA 2K21 Next Gen
Best Badges in NBA 2K21 - NBA 2K21 Best Shooting Badges (Most Important Shooting Badges)
Badges are important in NBA 2K21 because badges control what you player can do and achieve, proper badges can help you perform what you want to do and win your opponent on the court. Which shooting badges you should get? Check out the recommended badges and what builds they can fit. Please note that the "best badges" on this list not only based on their benefits, but also related to their versatility, some of the badges no included because they can only be used for a small amount of applications, not suitable for everybody. Cheap NBA 2K21 MT with best prices are on hot sale at utplay.com, welcome to place an order. Sufficient inventory from reliable suppliers to meet your demand for cheap NBA 2K MT.
Difficult Shots
Improves the ability to shoot difficult shots off the dribble. High difficulty jumpers such as hop steps, spins, stepbacks, and pull-ups receive a shot percentage boost. It's a useful badges for shooting, you use the shot aiming with Difficult shots, you're literally not going to miss and don't have to green it, it's versatile on your offense, you can just take any shot and become unguardable, so if you want to be really good at this point in the game, you almost have to get this badge. The difficult shots badge applies to 4 different types of shots: Hop Shots, Spin Shots, Pullups and Step backs, and suited for Shot Creators and Playmakers builds.
Green Machine
Increases the bonus given for consecutive excellent releases. Gives an additional shot boost when consecutively achieving excellent releases on jump shots. This is a must have badge for anybody, it boosts your shots and keeps you in that rhythm in a row, you will get increased chance of green with it, put this on go to Hall of Fame if you can, if you have around 10 shooting badges, Green machine should be the primary one, it's suitable for everyone. This badge is best suited for 3-PT Shooters, Offensive Threat, Stretch Bigs, Mid-Range Shooters, and Shot Creators builds.
Hot Zone Hunter
Improves player's shooting ability after making first shot until a miss occurs. For every made shot from the beginning of the game, player receives a shot attribute bonus that lasts until the first missed shot attempt. This is probably the best badge in the game because it changes how well you shoot and boost the shot percentage for attempts playing and taking in the players favorite spots, it's useful for everybody if you're a shooting build or you plan to shoot effectively. It suited for any builds.
Range Extender
Extends the range from which a player can effectively shoot. Adds extra distance to a player's given shot range for both mid-range and 3PT shots. It adds extra difference to the players, given shot range for both mid-range and three-point shots, it helps you at mid-range, even if you only have Range Extender, it's going to make a huge difference, it's also must have badge for everyone. Best suited for Shooters, Stretch Bigs, and Shot Creators builds.
Other good shooting badges: Catch & Shoot, Deadeye, Tireless Shooter
Relatively worse badges: Deep Fades, Ice in Veins, Pick and Popper, Pump Fake Maestro
Best Badges in NBA 2K21 - NBA 2K21 Best Playmaking Badges (Most Important Playmaking Badges)
Bail Out
Increases the chances of successfully completing a pass from mid-air. Passing out of a jump shot or layup yields fewer errant passes than normal. It's so useful and overpowered, you can have it on bronze, you don't even need this on Hall of Fame or gold, it can improve several levels, you can really just go for a shot pass out anytime, it draws the defender in you just throw people wide open, it's one of the best play making badges in the game. Best suited for Playmakers build.
Dimer
Boosts the shot percentage for open teammates on jump shots after catching a pass. When in the half-court, passes by Dimers to open shooters yield a shot percentage boost. Another must have badge for any playmaker, it makes your teammates better every time you pass to someone and also gives you more space to work on your place. It is beneficial for everyone. Best suited for Playmakers.
Floor General
Teammates receive an offensive attribute bonus when player is in the game. Gives offensive attribute boosts to teammates when on the floor. Also, at the Hall of Fame level, can see teammates` potential shot percentages while on offense. Floor General can take non-speed boosting builds and turn them into speed boosting builds and can make non-shooter become shooters, it just makes everybody scoring better, it helps your entire team, not just one player. Best suited for Playmakers.
Handles for Days
Reduces the amount of energy lost when performing dribble moves. A player takes less of an energy hit when performing consecutive dribble moves, allowing them to chain together combos quicker for longer periods of time. If you're a playmaker and want to dribble, you need Handles for Days, maybe not on Hall of Fame but you need it on gold at least, if you don't have this badge, you just bite on the stamina with like your move, you really can't do anything. Best suited for Playmakers, Shot Creators, and Offensive Threat builds.
Quick First Step
Provides more explosive first steps out of triple threat and size-ups. When driving out of triple threat or after a size-up, ball handlers have access to quicker and more effective launches. Quick First Step is literally a must-have for guards with their general moves, if you are a ball handler or you play a corner role, you need this badge on as high of a level as you can get it. The speed boost it provides can make it much more difficult for defenders to stay in front of you. Best suited for Playmakers, Slashers, and Finishers.
Other good playmaking badges: Dream shake, Lob City Passer, Post Spin Technician, Space Creator, Unpluckable
Relatively worse badges: Pass Fake Maestro
Best Badges in NBA 2K21 - NBA 2K21 Best Defensive/Rebounding Badges (Most Important Defense Badges)
Brick Wall
Increases effectiveness of screens and drains energy from opponents on physical contact. This badge makes it tougher for the defense to get through or around screens. Players hit by contact from a Brick Wall lose more energy than normal. If you're any kind of center, if you want to set screens, you need Brick Wall, otherwise, your screens are going to be paper screens they're not even going to work, people are just going to immediately go through them and that's going to stunt your whole offense. Best suited for Inside Finishers, and Glass Cleaners builds.
Clamps
Boosts the ability to stay in front of the ball handler on the perimeter. Defenders have access to quicker cut off moves and are more successful when bumping or hip riding the ball handler. If you want to concentrate when they switch onto your guard and then you have Clamps, you can guard that very effectively, have it in your center where if the guard gets stuck and you are doing a switch,a guard couldn't get past. It suited for any builds.
Intimidator
Intimidates offensive players causing them to miss shots more often. Offensive players have less success shooting when contested by players with this badge. Also boosts the shot defense ratings when tightly guarding an opponent. You should have this badge. The only situation where you do not have to take this badge is if you only get 1 badge and you prefer Clamps. For anyone with multiple defensive badges, Intimidator is a must have one and get it on the highest level possible.
Rebound Chaser
Improves a player's ability to chase down rebounds. Improves a player's ability to track down rebounds from farther distances than normal. This is the main rebounding badge, if you're a rebounder you plan to get rebounds, if you're a big man you need Rebound Chaser. Best suited Glass Cleaners and Interior Builds.
Other good defensive/rebounding badges: Box, Interceptor, Pick Dodger, Pogo Stick, Rim Protector
Relatively worse badges: Lightning Reflexes
Best Badges in NBA 2K21 - NBA 2K21 Best Badges (Most Important Finishing Badges)
Contact Finisher
Improves the ability to convert contact layups and dunks in traffic. Slashers who play below the rim finish contact layups more successfully while dunkers are able to pull off more contact dunks. It can get you more dunks and links you dunk on people who play below the rim, and be able to pull off more contact dots, it makes you more competitive. Best suited for Slashers and Finishers builds.
Giant Slayer
Heightens the effectiveness of layups over taller defenders. Boosts the shot percentage for a layup attempt when mismatched against a taller defender and reduces the possibility of getting blocked. Giant Slayer provides a boost when taking contested layups against taller players. The boost increases as the height differential gets larger. Put on Giant Slayer will make you make layups and anything against taller players and keep you from getting blocked, it only suitable for small players, if your player is very tall, don't put on this badge. Best suited for Slashers and Finishers builds.
Slithery Finisher
Improves a player's ability to avoid contact when attacking the rim. Increases a player's ability to slide through traffic and avoid contact during gathers and finishes at the rim. It increases the players ability to slide through traffic and avoid contacting gutters and finishes of the room a lot of times. Best suited for Slashers and Finishers builds.
Other good finishing badges: Backdown Punisher, Consistent Finisher, Lob City Finisher
Relatively worse badges: Cross-key Scorer, Showtime, Tear Dropper