FIFA 22 Best Cheap Starter Squad Players - Top 8 Best Starter Beasts Duo For FIFA 22 Ultimate Team
8/24/2021 11:28:34 AM

These are the 25 of the best cheap starter players for you to pick up in the FIFA 22 ultimate team, whether that's the first week, second week, or any period of time. we're not sure what the ratings are at the moment, thanks to YouTuber Zayder, we also have a rating prediction as well. all these ratings aren't official, they're merely our prediction of what they will be in FIFA 22.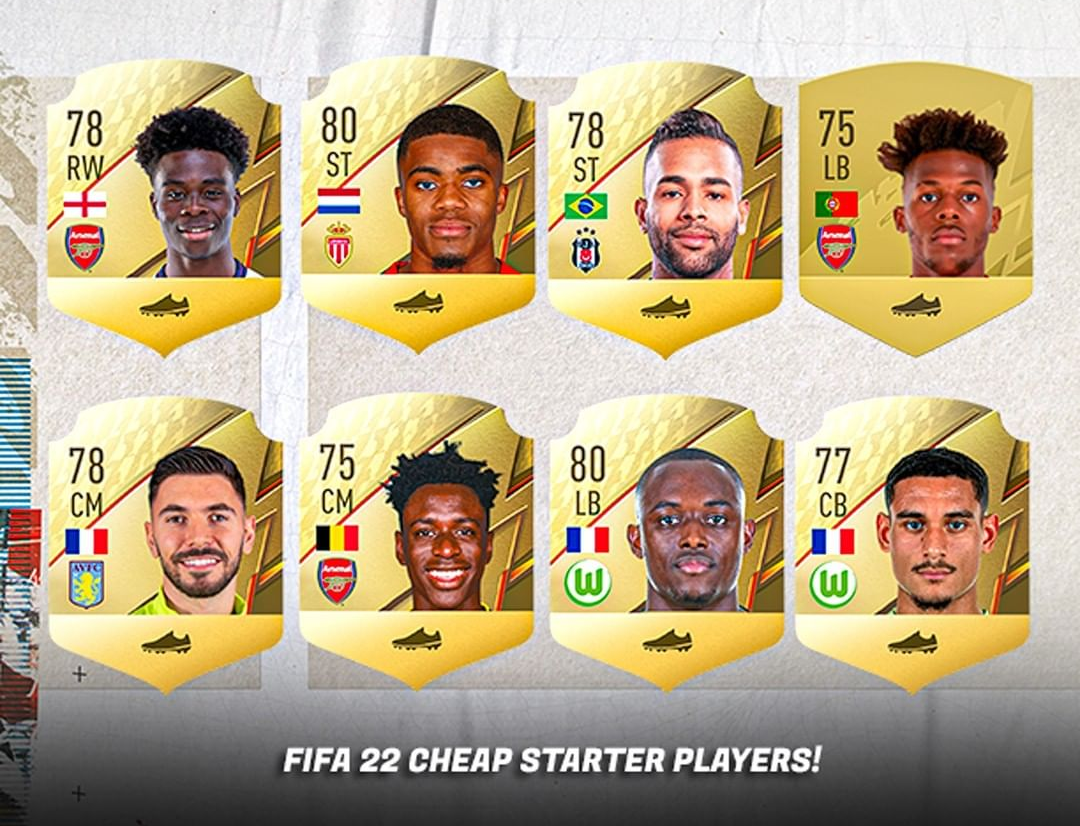 8.Maxence Lacroix & Ruslan Valiullin
The first players that we do have, we'll go for a partnership of two players. these players might be one of the more OP cards. Maxence Lacroix & Ruslan Valiullin, who would be a perfect link, you can link this flashback Ruslan from this year to the team of the season. these players were absolutely great last year. for starter squads, Ruslan keeps his pace, Lacroix gets a nice little upgrade as well, he could be one of the more annoying players to play against, especially he's six foot four. last year he was a silver card and we expect them to be a gold rare this year. the perfect link makes them the new Varane and Mendy but with a lower budget. you'll be seeing these players a lot.
7.Mike Maignan & Fikayo Tomori
The next player is one that can link to them. a lot of these players go in hand with each other, you can build squads out of these. Mike Maignan, who transferred to AC Milan. if you do want a strong link to him, none other than Tamori is going to give him the green link. you can put Tamori in there, you can build a squad with all these players as well. you need to right back for the back to complete the back four, but Maignan came over from Lille after Donnarumma left, plus two upgrades, he had an incredible season at Lille as well. we're not too sure if Tamori will get a big upgrade or not, he was 76 rated last year. this is a duo you should try and go for in your starter squads. Maignan is rated 84, not super expensive. Tamori can get him the strong link doesn't matter how bad his defending and physical might be compared to other center backs, as long as he has the pace and the height and has that good body type, he will win a lot of the battles.
6.Lucas Vázquez & Nacho Monreal
speaking of perfect links, this is the final perfect link. nacho and Lucas Vázquez are both have fantastic ends of the season, even though Lucas Vázquez did get injured, unfortunately. these players won't be super expensive. nacho's a little bit on the shorter side, Vázquez is going to lack a little bit of physical, especially as a right back. these players would be good ones that might go under the radar. we recommend keeping an eye on them.
5.Jude Bellingham & Emre Can
there's a couple of different options with these next two players, but this is the first one, Jude Bellingham and Emre Can. Emre Can as CDM is where he fits in the best place for him, Bellingham can be more of a box to box a center mid better on the ball, even though he's a little bit taller, he still can be that player that isn't a CDM but can bring the ball up connected to the forwards. this midfield duo would be really nice.
4.Patson Daka & Kelechi Iheanacho
Iheanacho just came off a pretty solid season for Leicester city and he will get a nice upgrade. both of them should get nice upgrades. Patson Daka had a team of the season last year. this is a strong link with different nations, not easy to get outside links for, they're limited to the premier league, but they get a strong link to each other. they both might be super nice cheap OP strikers.
3.Francis Coquelin & Pervis Estupinan
The link between these two players are very strong, you would need a couple other La Liga players around them. you can't put nacho and Vázquez, because they have to be on the right side unless you only want to go for nacho to get a strong link to him. it's a little bit of a weird one, you have to play around with it. but Coquelin and Estupinan maybe work in a four three three flat.
2.Denzel Dumfries & Nicolò Barella
depending on how the market reacts to the rating and their in-game stats, the next duo is a recent transfer that we're excited about and this is a great signing. Dumfries we signed for inter, Barella, who's 83 rated gets strong links to each other. Barella deserves a huge upgrade after being such an incredible player for inter and Italy, winning the league also winning the euros. it's a great strong link, Barella is good on the ball. he's one of those players that you can twist and turn with open up the play. Dumfries is one of those OP right backs as well.
1.Youcef Atal & Jean-Clair Todibo
The final duo we're going to show you is Youcef Atal and Jean-Clair Todibo, who could be a very nice duo. it's how it's similar to Lucas Vázquez, all round player Todibo is what that's all star center back you can even link him to Lacroix if you do want to. both of these players are very good, we don't think a lot of hype is going to go around them. Atal is this super hype player in this year's installment, but if he goes back to her right back and doesn't have a special card yet. people might not be able to gravitate that way at the beginning of FIFA 22.