Best FIFA 21 Attacking Tutorial - Tips & Tricks, Formations, How To Score More Goals And Get More Wins In FUT 21
11/12/2020 4:24:24 PM

Today we utplay.com present you with the best FIFA 21 attacking tutorial, we will detail you how to attack in FIFA 21 and we'll list the top 7 easy FIFA 21 attacking tips & techniques for you to break down the difference between your opponents and score more goals and get more wins in FIFA 21 Ultimate Team.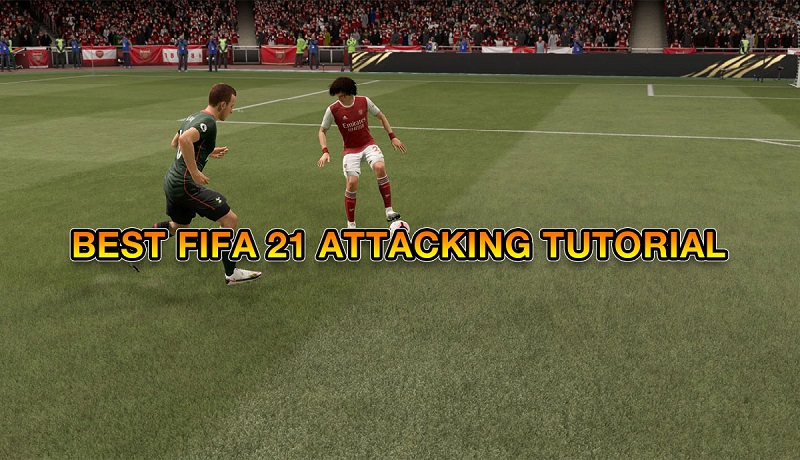 Best FIFA 21 Attacking Tutorial - Top 7 Tips For Attacking, Score More Goals In FUT 21
In real-life football, offense and defense are one part of the competition, and it is no different in the realistic simulation of the sports FIFA 21. To win a match at FIFA 21 you need to score more goals, and only successful attacks can improve your chances of banging goals. Attacking in FIFA 21 has evolved a lot comparing with FIFA 20, there are a lot of new options that you can use and options that will help you improve your winning ratio. Now here are some techniques & tips to attack in FIFA 21 and hope that can help you create more scoring chances when playing online and online matches in FIFA 21.
1. Use One Touch Passes
That's very important in an attack to make it hart for the opponent to defend. Try to use as much one-touch passes as possible and the key is to aim early to increase the accuracy. So the one-touch passes are amazing to use in attack and makes it hard for the opponent to defend.
2. Player Lock It
The playlock is great to use in the game, it's a new feature of FIFA 21 and this is abuses when you have time on the ball, just to press down on both triggers and then take control of your player and you will control the ball and then you can just move as you want. Then time to pass and using triangle to get this open one-on-one. It's very effective. This is the most fancy way to overcome and outsmart the opponent's defense. Steps: press down L3 + R3, flick the right stick to desired receiver, launch the pass.
3. Lofted Passes
The lofted passes were introduced in FIFA 20 and they are still very effective in FUT 21. All you have to do is a double tap either X or triangle if you want the ball to go towards the player or just in front and get this little extra dink on the ball which easily can find its' way over defender, a normal pass simply cannot. So you can find some new passing angles and some new passing lanes using this trick.
4. Stepovers
This is great move to use to win some space on a pitch, just move forward in your positions while the ball stays quite protected. All you have to do is to move the right stick in a quarter circle, starting from the way that you're facing to activate these step overs. When you understand this concept, you can also make an exit with the left stick just towards any direction which gives this move some great variation and makes it very hard to predict.
5. Hug The Sideline
It's great to use when you're under pressure. When opponent is simply pressing and his players are running around, using team press and you can't find any options well, the counter attack to this is whiff to use the hug sideline. Just to go with d-pad up right to active this, a quick tactic which literally will make your full backs and wingers hug and lick the sideline which is a great to use a surpass.
6. Composed Finishing
Keeping movement is a big thing in the game, the point will most likely try to cover either side but if you just hold the shot for half a second, you will let the point expose himself, you can just enjoy that open net, but the key is to stay calm in this moment and take that little extra time which will give you the edge to see where the opponent is moving.
7. How To Shoot From Anywhere
Scoring goals is the hardest thing to do in football. If you're one-on-one and the keeper has rushed out to meet you, that's when you lob - and only then. Hit the L1/LB button for that. Hold the R1/RB and L1/LB buttons though if the keeper hasn't come off his line. That's the best way to drill the shot low and hard past him. If you're at an angle and have a clear sight of goal, turn in and bend the ball into the corner. Finessing the ball uses the R1/RB buttons. This is what's also known as the Mbappe shot or the Henry shot - two right-footed strikers who break onto the ball on the left and angle their body open only to shoot across the keeper. It works a treat.
Best Attacking Formation FIFA 21
Here are some recommended FUT 21 attacking formations to try when playing online matches in FIFA 21 Ultimate Team.
4-1-2-1-2(2)
This formation is great for those that love to pass the ball and play quick tiki-taka football, preferring to stay away from the wings. To make it work from an attacking perspective, you'll need to have two well-rounded center-midfielders that can get up and down the pitch. Using them can greatly improve your chances and options off the ball in attack.
Tactics
Offensive style: Possession
Width: 5
Players in box: 4
Corners: 2
Free kicks: 2
4-2-3-1
This formation is fantastic for those that create most of their chances from wing play. The reason why the 4231 is the most meta formation to give your wins is that it's the only formations where you can attack in a four striker formation with your three cams and your striker but also you can have one of your CDMs during the attack which essentially makes it a five-man attack.
Tactics
Offensive style: balanced
Width: 5
Players in box: 4
Corners: 4
Free kicks: 4
That's all about FIFA 21 how to attack and how to score against any defense in the game. Is this FUT 21 attacking guide helpful to you? Which attacking tip & technique do you like best? More FIFA 21 news will be updated here at utplay.com, we also provide you cheap FIFA 21 Coins for PS4, PC and XBOX ONE.