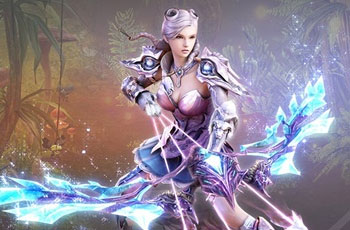 Welcome to buy AION Classic Kinah at cheap prices, worldwide safe payment, instant delivery, 100% safe transaction, and 24/7 online responsive customer support will ensure you get enough AION gold without any risk and worries here! UTPLAY.COM is a legitimate and trustworthy AION Classic Kinah store with a great reputation in the market. With more than years of experience in AION Gold, UTPLAY.COM now always offers you cheap AION Classic Kinah for all servers with low price, instant delivery and best services.
What is Aion Classic?
Aion Classic is the refreshed retro version of the MMORPG - Aion: The Tower of Eternity (first release on on 2009), which is distributed by NCsoft in November, 2020, and launched in America on June 23rd, 2021, designed to allow players to enjoy adventures with the game's structures in its first years of life. Aion Classic allows players to relive the game's launch and title patch 1.0, with 4 four core classes: Warrior, Scout, Mage, and Priest. However, the game will include features taken from later patches, particularly 2.7. This offers better gameplay optimization and class balancing. The progression is also simplified to provide the best gaming experience for newbies.
For this new release, Aion Classic offers itself a new economic model. Like the original, the game is free-to-play, but players have to purchase optional subscription plans. Two formulas will be available, each offering Siel's Aura, a gain and experience boost with no time limit. A Battle Pass called Daeva Pass will also be offered, which will allow players, among other things, access to cosmetics and exclusive components. And NCSoft is directly selling Aion Classic Kinah (in-game currency) make the game legitimizes real money trading come true, players can spend money for in-game items to then sell for the Aion Classic gold.
What Is Aion Classic Kinah (Gold)?
Aion Classic Kinah is the premier currency or gold running the economic in the world of Atreia, which can be used for purchasing numerous items, services, and transportation between areas and regions on both Asmodians and Elyos. So like the money in real world, you will need Aion Classic Kinah to build up a better life and journey in the game.
How To Farm Aion Classic Kinah?
Although in AION Kinah, new currency systems allow players to directly use real money to purchase Aion Classic Kinah from NCSoft. But players can still get free gold in the game in the following ways:
Completing Quests

Killing NPCs

Selling Items to other players

Selling Items to the Broker

Selling Items to a Merchant
Why Should Buy Aion Classic Kinah On UTPLAY.COM?
Although the following methods allow players to obtain Kinah through their own hard work without spending money, it is a long challenge to obtain Kinah enough to raise your character to a high level. Therefore, we recommend that you get the Aion Classic Kinah you need in a short time in a more cost-effective and time-saving way-that is to buy a cheap Aion Classic Kinah from UTPLAY.COM!
Low Prices - UTPLAY always offers the cheapest AION Classic Kinah around in the current market.

Quick Delivery - Stable stock of Aion Classic gold, 99% orders can be finished in 5-15 mins

100% Secure - 100% safe handwork Aion Classic gold for all servers, secure payment transaction

24/7 Live Support - Any questions or problems you have can get a reply within seconds.